Pawsome Co-Workers: A Pooch's Tips for Working From Home!
Written by Adaptil, published on April 18, 2023
The past few years of lockdowns has certainly meant that things have changed for us and our pets. So if you are still working from home, heading back to the office or embracing a hybrid working model, change can be difficult for our pets, read on for a pooch's point of view for co-working together.
I'm not complaining, I do love their company when my human is home, but there are a few things they ought to bear in mind to keep us pooches happy whilst they are working from home!
A Pooch's Tips for Working From Home!
We need to know where we stand or sit, as the case may be!
Establish a new routine

I knew what I was doing and when things were going to happen when I was home alone, but now that everyone is sometimes here with me, a little bit of planning is called for.
I need to know that we will still be having our regular walks in the morning and afternoon - I like consistency and I do enjoy meeting my doggie pals in the park and having a good chase. It's really good exercise for me, and it also does my human good to get out in the fresh air before they sit down at their computer.
Mealtimes definitely should stay the same - I really look forward to those and I hope I still get to play with my food toys and puzzles during the day. I like to keep occupied, especially when they are hidden around the house and I have to sniff them out! They taste yummy too, but don't give me more than usual - I'm watching my waistline!
I need to know that I can have my own space. My human spends a lot of time on the phone and laptop, but they can be quite disturbing if I want a nap - so I would like to have my own space to retreat to, and have some 'me' time.
I like it when they play the Calming Music for Dogs Playlist on YouTube the relaxing sounds help me stay calm.
I just wish they would move those wires and boxes around their desk; I'm so tempted to play with them but they don't like it when I do.
I know I'm not used to having them around, but when they have a break for a coffee, or lunch, I do enjoy having a little fuss made of me - a pooch can never have enough cuddles!
I know work is important for my human, but it would be really useful if they give me a cue when they want me to be really quiet. I learn quite quickly, so I would understand if they taught me something like 'quiet' or 'shush'; it just takes a bit of training. Or if they know they need complete silence for a long time, I'm quite happy to go into another room with a toy for a while.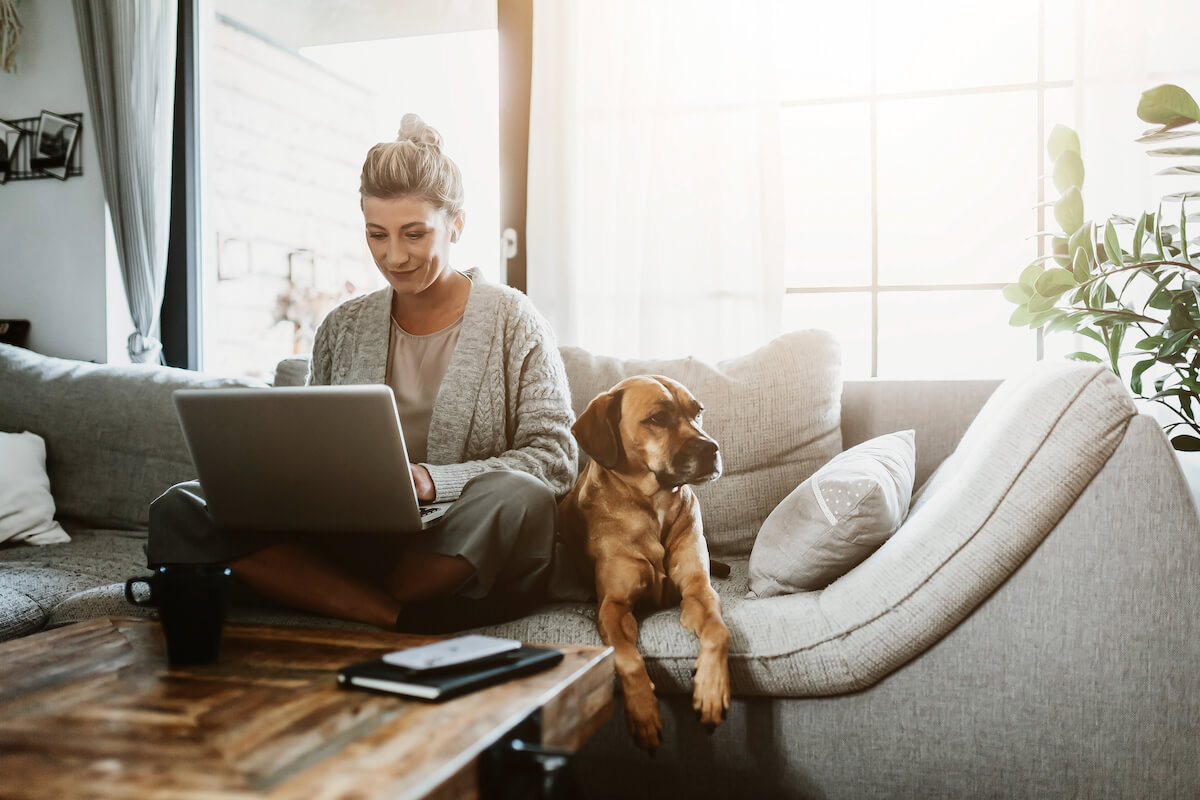 I'm Here to Help!
I really am a pawsome co-worker and I feel that I'm being quite useful to my human. After all, they have my company all day now, so they've got me to talk to. I've also got a cosy bed right next to their desk and sometimes they introduce me to their work colleagues on video calls - they think I'm very cute (I do try!).
Other people on the video calls also have pets. I've seen a cat walk across the keyboard sending the screen all wobbly; I did bark at the computer but unfortunately I wasn't able to chase it. One of them has a puppy, who is also very cute; I wonder how they coped with those lockdowns? ADAPTIL did a survey; did you know that 26% of my doggie pals showed signs of anxiety and stress during lockdown, but I think I'm one of those in the 64% who haven't found it stressful at all. I loveADAPTIL! Whenever it's plugged into my room, I feel so much more relaxed.
I hope my human made someNew Year's resolutionsfor us; it would be great to spend even more time together - even if they go back to the office one day. I suppose if that happens, my human would know how to help leaving me at home stress-free experience. Whatever happens, they sure won't find a co-worker as great as me!
Following our expert tips will help to ensure your bond with your dog goes from strength to strength.
Make sure to join our community for weekly advice from our dog behaviour experts as well as product offers and competitions. 

Related Posts
Legal notice The information collected is intended for Ceva Santé Animale and the group in order to manage your requests. This information can be shared with service providers in order to organize their management. In accordance with the General Data Protection Regulations, you have the right to access, rectify and limit the processing of your data. You can also, in certain cases, object to the processing, withdraw your consent and request the deletion and portability of your data. For any request in relation to your personal data, please visit this page.