I WANT TO HELP MY PUPPY WITH
VET VISITS
How to help your puppy at their first vet health check
Help your puppy with ADAPTIL Junior

Clinically proven to help puppies adapt to unfamiliar situations.
Vet visits involve a lot of new things for your pup, such as new smells, sounds and being handled.
Use ADAPTIL Junior for your pup's vet visits in their first 6 months.

Practice elements of a visit beforehand

Vet visits involve meeting new people and being examined.

To avoid this being overwhelming, emulate parts of the visit at home beforehand, so it isn't a complete surprise for your puppy.

Gently stroke them over all of their body, starting with areas you know they are already comfortable with.
Pick them up gently and place them on a blanket on a table.
Hold the back of a spoon next to their chest (it's bit like a stethoscope!).

On the day

Bring the blanket that you have been using during training sessions with your pup to comfort them with familiar smells.
Bring a favourite toy and some treats with you too for positive rewards.

Other tips

Make some visits to the vet practice that don't involve an appointment for your puppy.
This builds up positive experiences in your pup's memory banks.
The clinic team will be happy to make a fuss of your puppy! (who can resist saying hello to a cute pup?)
Comfort and calm your new puppy wherever they go
ADAPTIL
Junior
The effective solution to comfort newly adopted puppies, as they learn about and adapt to their new world. Perfect to help:
---
Crying at night

Spending time home alone

Adjusting to loud noises

During puppy training 
Up to 30 days of comfort
Recommended by veterinarians

25 clinical studies published
TESTIMONIALS
See how ADAPTIL Junior helped these puppies: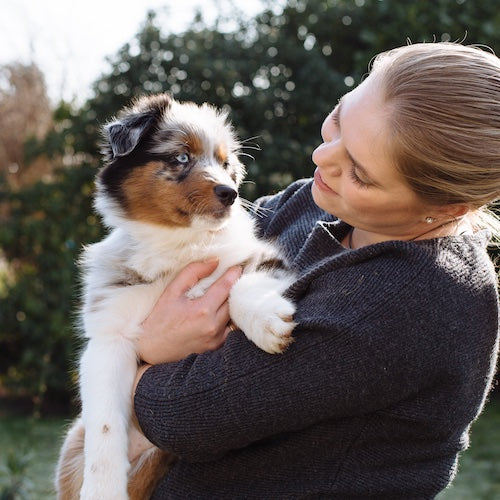 Jess is 10 weeks old now, a little Australian Shepherd dog. Our little dream dog. Using ADAPTIL Junior is very easy. You put it on the puppy like any other...
Read more
ADAPTIL
Junior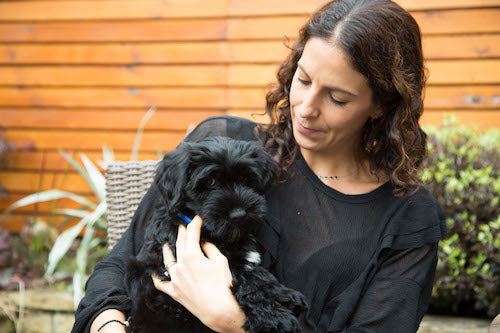 My name's Suzanne, and I live with my family and our 9 week old puppy: Betty. The whole family fell in love with her instantly! We wanted to...
Read more
ADAPTIL
Junior
Tips for taking your puppy to the vet
As a proud new puppy parent, one of the first outings you have together will be to the vets. Visiting the vet can seem daunting, but it doesn't have to be a frightening experience.
There are lots of different things that make up a vet visit which are new to your puppy, such as:
travel to and from the clinic
meeting different people, some of which might hold and examine them
getting on and off weighing scales
waiting in the waiting room with other dogs and people
different smells, sights and floor surfaces
being on an examination table
being near different equipment.
Fun visits!
Our vet's suggestion: Ask the clinic about opportunities to bring your puppy into the clinic for 'fun visits', when the trip is just for the experience. The focus could be any of the elements, but the key is to make the visit fun and full of rewards for relaxed body language from your puppy. These visits help to build up a bank of positive associations your puppy has at the clinic, which helps them in the future when they have to visit for healthcare needs.
Think of it as being like a penny jar - for each positive trip to the vets a penny goes into the jar. If your pup then has a negative experience in the future, the impact will be less if the jar is already full of pennies!
What happens in my puppy's first appointment?
Your clinic will usually book a longer than normal appointment for your first visit, so that your vet has plenty of time to meet your puppy and answer all of your questions. Your vet will give your puppy a thorough examination and discuss healthcare topics with you and plan future appointments your puppy may require.
If you haven't already enrolled for puppy classes, your clinic will be able to direct you to local accredited dog trainers and behaviourists. The clinic may even hold their own Puppy Party.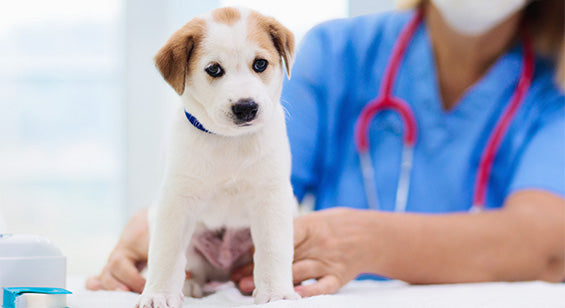 What should I bring on the day?
Our trainer's suggestion: Your puppy will appreciate some familiar items from home. Treats are a great way to distract them during the visit (especially if the treats are one of their favourites). Bring one of your pup's blankets with you into the clinic too, as then your puppy has something familiar to rest on.
More tips are in our taking your dog to the vet article.
Will ADAPTIL Junior help my puppy during a vet visit?
Yes! ADAPTIL Junior will support your puppy during visits to the vet. It releases 'appeasing messages' to help your pup feel reassured as they experience all the different sights, sounds and handling a vet visit entails (as well as during the journey to and from the clinic). 
Lots of vet clinics also use ADAPTIL Calm Diffusers in different areas of the clinic, or spray blankets with ADAPTIL Transport for dogs to use. ADAPTIL has been clinically proven to reduce canine anxiety in veterinary clinics*.
Keep calm!
This last tip is for you - try and keep calm yourself, even though you may be feeling nervous about the visit. Your puppy is in tune with how you are feeling and minimising your stress can help them feel less anxious.

* Mills et al (2006) AABS 98: 114-126