I WANT TO HELP MY PUPPY WITH
TRAINING SESSIONS
How to start basic puppy training
ADAPTIL Junior helps your pup train and learn better

Clinically proven to support puppies as they learn about the world around them.
Supports puppies attending puppy classes and everyday training.
Use ADAPTIL Junior until your pup is 6 months old.

Follow our puppy training "golden rules"

Keep sessions short, and repeat frequently
Reward your pup when they do 'good' things. Do NOT punish the 'bad'.
Be patient, clear and consistent, and keep calm yourself.
Start early, right after adopting your puppy.

Socialisation is key

Expose your puppy to many
different things such as:

Dogs, people, places, sounds...

Think about what your puppy may experience with you in the future:

Reward your pup when they respond well to new experiences (never punish them). This builds positive associations, helping prevent fears in the future.
Take each new thing slowly, do not try to do it all at once as it will overwhelm them.

Consider puppy classes

A fun and effective way to encourage your puppy to learn and develop into a confident, outgoing dog in any situation.
Designed for puppies 8-16 weeks old.
Contact your local accredited dog trainer or behaviourist for details on their available courses.
Releases appeasing pheromones to help your puppy concentrate as they learn
Recommended by veterinarians

25 clinical studies published
Follow Our Expert for Basic Puppy Training Advice
Clinical Animal Behaviourist at Pet Sense, Rosie Bescoby shares her advice for puppy behaviour training and how ADAPTIL can help support your puppy's development.
Follow these basic puppy training tips with the adorable Eric!
Black Labrador puppy Eric has joined Rosie's busy household. With the right training combined with ADAPTIL, you can support your puppy to become the best version of themselves.

From car journeys and building confidence in how your puppy understands the world, to top advice for the 3 most common dog behaviour issues other puppy owners are experiencing too.
TESTIMONIALS
See how ADAPTIL helped these Dogs: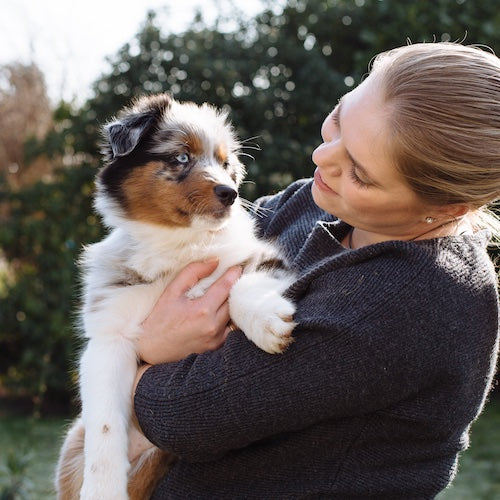 Jess is 10 weeks old now, a little Australian Shepherd dog. Our little dream dog. Using ADAPTIL Junior is very easy. You put it on the puppy like any other...
Read more
ADAPTIL
Junior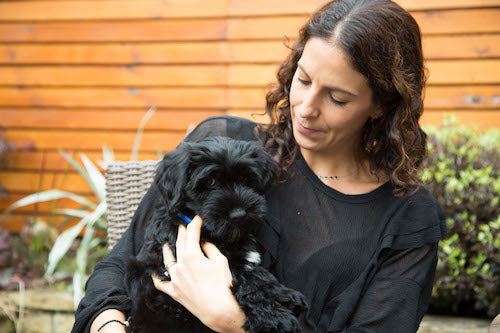 My name's Suzanne, and I live with my family and our 9 week old puppy: Betty. The whole family fell in love with her instantly! We wanted to...
Read more
ADAPTIL
Junior
Why is socialisation so important for puppies?
There is a recognised sensitive period every puppy has at the start of their lives, starting around 3 weeks of age until they are 16 weeks old (depending on their breed). During this window of time, puppies learn to accept the things around them as being "normal" and not something to be wary of.
That's why it is essential to introduce your pup to as much as possible during this period, in a positive way. Our top tips to help your new puppy adapt article has 4 tips for you to read. If you don't work hard together during this period your pup may find it more difficult to cope with new experiences in the future.
How to socialise your puppy
This is a time to get your puppy to experience lots of different things, but it is also important to make sure your puppy doesn't become overwhelmed with everything. Focus on the experiences you are expecting your pup to take part in in the future. For example, if you enjoy visiting the countryside but live in the city, be sure to introduce your puppy to livestock as well as busy city noises.
Make sure all encounters are enjoyable, e.g. give strangers tasty treats to feed your pup and have a favourite toy to play with in these surroundings. If your puppy seems anxious or overwhelmed during the experience, give them some space, let them move away and freedom to choose to approach in their own time. Their body language will give you clues - learn more about dog body language here. Signs your pup is feeling uncomfortable include licking their lips, yawning, tucking their tail, cowering, shaking or pulling their ears back.
How to train your puppy
It's important to keep training sessions positive. Read our tips and techniques for positive puppy training to learn how training can help grow your bond together.
Toilet training is likely to be one of the first things you'll want to master together, so read our 7 Puppy Toilet Training Tips to get off to a great start!
Crate training a puppy can be useful as this can then be a safe and secure area for them to be in for short periods or for sleeping in. Discover 6 Things to Remember When Crate Training a Puppy in this article.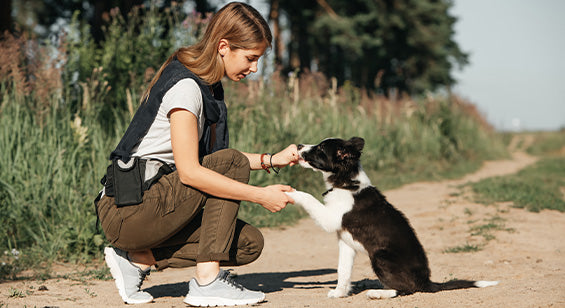 Remember, all puppies are individuals and will pick up training at their own speed. Don't rush them or become impatient! It maybe that you need to go slower, be clearer or change the time of day or length of training to help your pup's progress.
Speak to your local accredited dog trainer or behaviourist for advice on puppy behaviour training. Happy Dog Expert Ángela González discusses Reasons Why You Should Consider Puppy Training Classes to support your pup's socialisation period.
My puppy keeps biting me!
Puppies love to play! When your pup played with their littermates they will have used 'mouthing', a gentle form of biting that is understood to be part of the game. Whilst an accidental nip during play is understandable, make sure you understand the difference between a playful puppy growl and when they are asking for more space.
Read 7 Puppy Play Tips to Limit Biting and Growling to get the best out of playtime together. Why is my puppy biting and growling has tips to stop your puppy biting. 
Chloé Fesch, a Happy Dog Expert has New Puppy Training Tips to get your training off to a great start!
Using ADAPTIL Junior during this period helps your puppy to learn better and faster, by providing 'appeasing messages' to help them feel secure as they discover new things. This supports their training as they develop into a well-balanced adult dog.