Traveling With A Puppy In A Car
Written by Adaptil, published on April 18, 2023
Teaching your puppy to travel safely in a car should be part of your basic training with them as a young pup. Follow our top tips to help ensure success when travelling with a puppy in a car!
Small Steps to Help your Puppy Travel Well
First, teach your puppy to enter and sit calmly while the car is stationary. Keep sessions short. Reward with quiet praise and treats.
Next step is to encourage them to get into the car with the engine running, again using treats and praise.
Once your puppy is happy and calm in the car, start with short trips with each successful trip getting progressively longer.
Make them associate the car with pleasant things first, such as going into a park to play.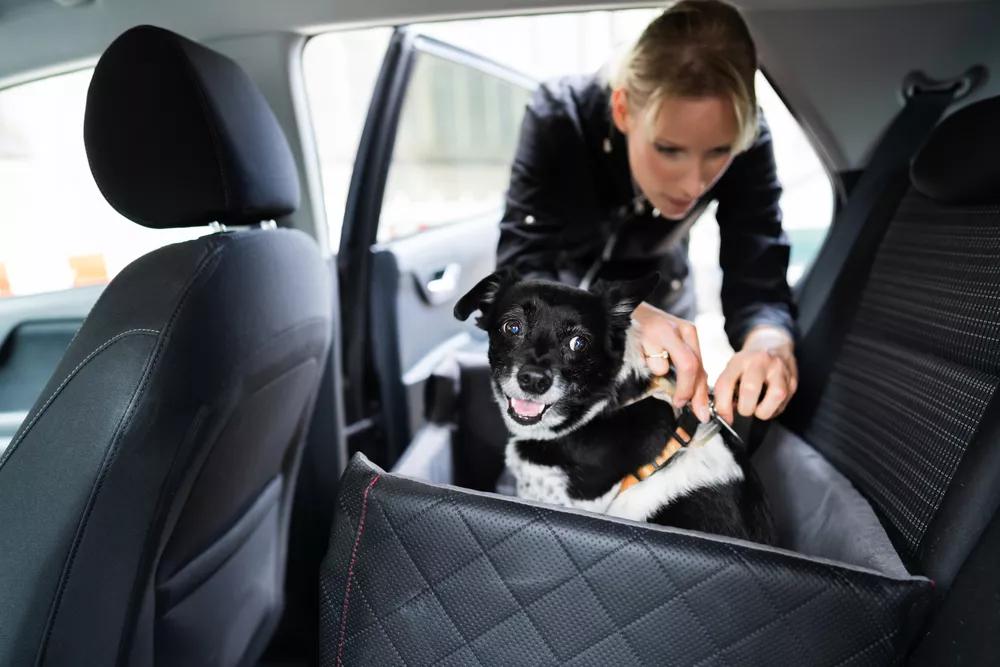 Help! My Puppy is Travel Sick
It is not uncommon for puppies and younger dogs to experience motion sickness, often because their balance has not fully developed. But it's usually a phase that they outgrow.
Try not to feed your puppy for at least 4 hours before travelling (but do not limit water) and make regular stops. Just like us, dogs need to stretch their legs and toilet every couple of hours.
Use Puppy Calming Pheromones
Use ADAPTIL Junior to reassure your puppy in the car, some puppies may also feel more reassured if they travel in a crate or carrier.
Alternatively, use a leash or a harness to attach to the seat belt, to restrain your puppy for safety reasons. This will prevent them from moving around in the vehicle.
Whether in a crate or not, provide your puppy with a comfortable blanket and toys.
ADAPTIL Transport Spray provides your dog with this appeasing pheromone, which cannot be released by humans: it contributes to their well-being and helps them adapt to stressful situations, like when travelling.
Remember to keep the vehicle well ventilated and never leave your puppy unattended in the car on a warm day.
Following our expert tips will help to ensure your bond with your dog goes from strength to strength.
Make sure to join our community for weekly advice from our dog behaviour experts as well as product offers and competitions. 

Related Posts
Legal notice The information collected is intended for Ceva Santé Animale and the group in order to manage your requests. This information can be shared with service providers in order to organize their management. In accordance with the General Data Protection Regulations, you have the right to access, rectify and limit the processing of your data. You can also, in certain cases, object to the processing, withdraw your consent and request the deletion and portability of your data. For any request in relation to your personal data, please visit this page.