How Can You Make a Dog Happy? 14 Tips!
Written by Adaptil, published on April 18, 2023
Choosing to welcome a new dog into your home is a big decision! But it's one that will undoubtedly bring lots of joy and happiness to you and your family.
Of course, adoption is not a one-way street! There are lots of things you can do to make sure your pooch shares your joy - here are 14 tips on how you can make your dog happy!
How can you make a dog happy?
1. Get them a pooch-perfect bed!
Dogs have basic everyday needs, like a safe and comfortable bed to sleep in. For a healthy, happy pooch, it's important to get the right size; if the bed is too small your dog won't be able to relax or stretch out; if it's too large they won't be able to snuggle up.
You should also take into account your dog's physical condition - if they are an older dog and have a touch of arthritis, they may need a bed with a bit of support. Or if they are very active and like mud, you might want a bed that you can wash frequently!
Place their bed in a corner of the room, out of general traffic areas, where they will feel safe, secure and can rest undisturbed. Maybe your dog likes to dig or circle in their bed before snuggling down to sleep, an activity that has been inherited from their ancestors!
2. Check that they have the right size bowls
Food and water bowls should also fit your dog's size and breed. If you give a large bowl to a small dog, you may be tempted to overfill it and they will overeat; the right size bowl will help you maintain your doggie's weight.
You may need to provide more than one water bowl - one close to their food bowl and another perhaps outside. It's important to keep your dog hydrated, especially if they have been playing in the garden in hot weather.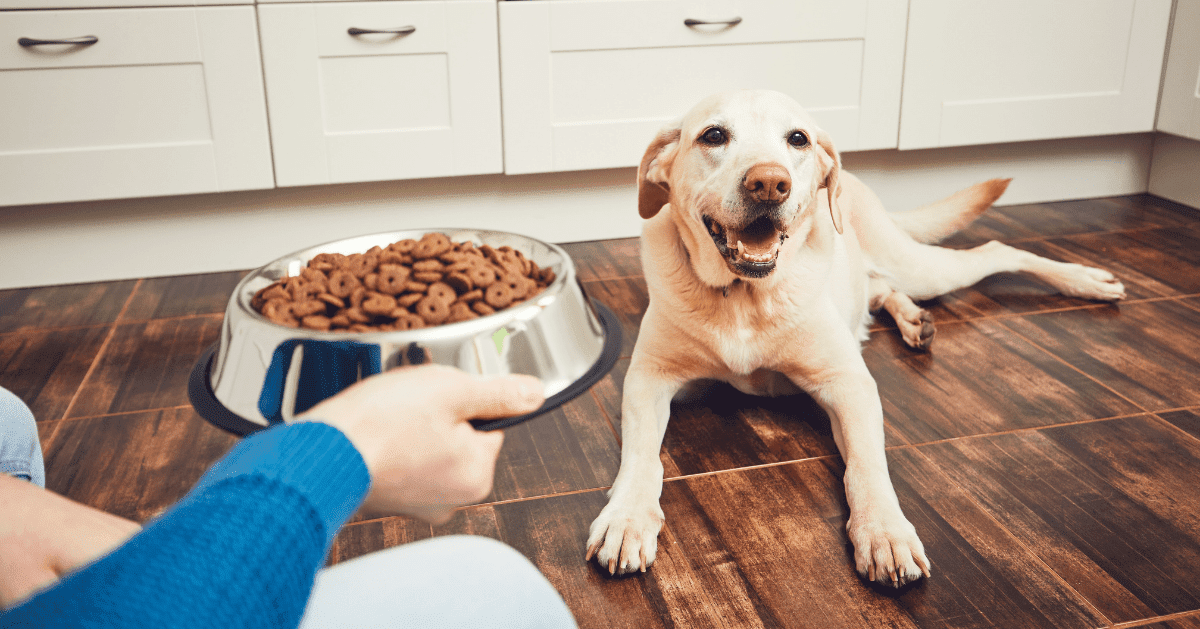 3. Give your pooch the right food
Getting the right food is important for your dog. There are lots of options available today; the most popular being dry kibble or canned wet food. These might not be very appealing to us, but they do contain all of the nutrients dogs need to stay healthy. There's nothing wrong with making flavour changes; trying a mix of rice, chicken, beef or vegetables etc. but you must make sure their food contains all the right nutrients, in the right quantities to maintain an appropriate body weight for their breed.
4. Give them treats - but sparingly!
Giving your dog treats, will of course make them happy! But make sure these are earned - for example, coming to you when called, or during training - and factor them into your dog's daily food ration to avoid them becoming overweight.
5. Help them be active
Keep your dog active by regular walks and playtimes. Your dog will love to spend time with you! Try to vary the places you visit and the games you play - this will keep them mentally stimulated too.
Remember if you have a puppy, they will need exercise in small bursts - then will probably have a nap to build up more energy. An older dog might need shorter, more gentle walks. Different breeds of dogs need different levels of exercise, so check out how much exercise your breed of dog needs every day.
6. Develop their senses
Dogs love to sniff and, when trained, their noses can be invaluable for sniffing out threats or even detecting people buried or stuck in emergency situations. While your dog may not be a working dog, it's important to keep those powerful noses active and stimulated by playing some scent training games!
7. Keep your dog mentally stimulated
Keep your pooch mentally stimulated particularly if you have to leave them home alone for any length of time. Ensure they have their favourite activity toys to play with; filling a kong toy with some treats is a good way to keep them occupied.
Remember to rotate the toys they can play with, so that they don't get bored. Dogs also like to chew, so make sure they have sturdy toys - these also help to keep their teeth healthy - and will remove the temptation to chew your shoes!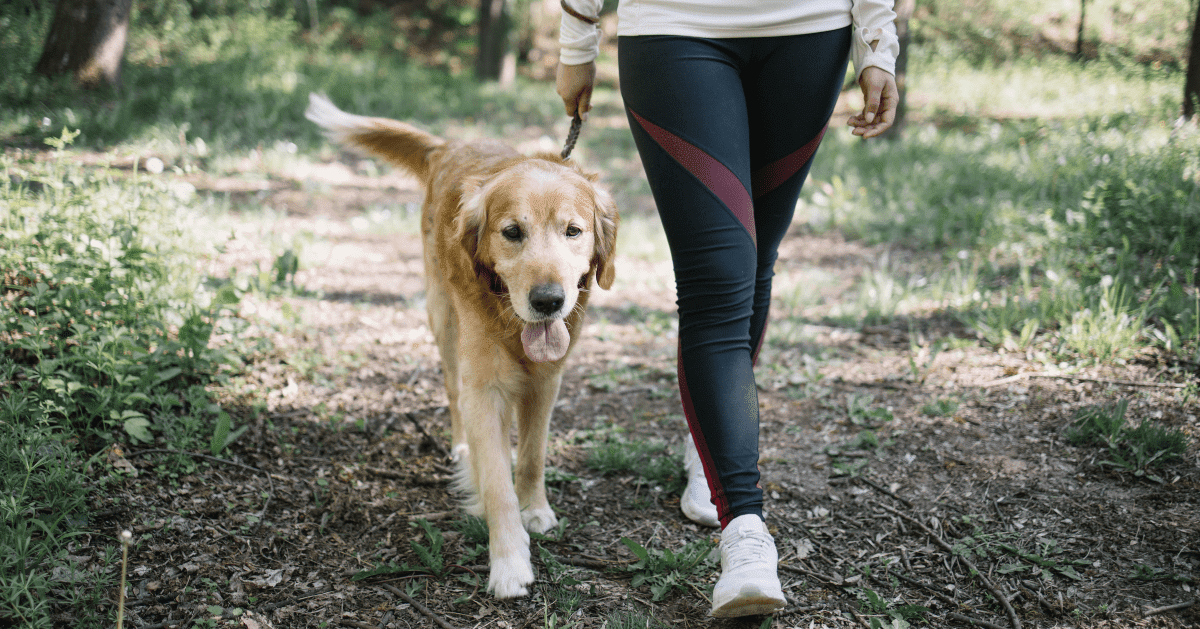 8. Support your dog with ADAPTIL
You can further support your dog during any stressful situations by using ADAPTIL in your home. Loud noises, strangers, or being home alone can be stressful for your pooch; simply plug an ADAPTIL Calm Home Diffuser into the room where your dog spends most of their time, and ADAPTIL's comforting messages will help them stay calm and happy.
9. Join training sessions
Taking your dog to training sessions is a great way to develop their obedience, recall and socialisation skills. It's important that you are able to keep your pooch under control in different circumstances. Having an understanding of their body language, combined with reward-based training, will ensure that you can help your dog stay content and happy in all situations, and is a good fun for dogs of all ages.
10. Give them lots of bonding time
Make a fuss of your pooch! Lots of dogs like belly rubs, but sometimes they would just be as happy cuddling up with you on the sofa. Find out what your dog likes most when you pet them and make sure you give them that lovely warm feeling! Take a look at these top tips for building a better bond with your dog.
11. Play games!
Play games with your pooch! From fetching a ball, to catching a frisbee or playing hide and seek; make sure you give them lots of 'me' time - it's a great way to strengthen your bond. Does your dog love Squeaky Toys? Find out why they're so much fun here!
12. Join doggy playdate
Did you know that playdates are not just for children! Dogs also have their favourite friends, so why not arrange to meet their doggie pals when you are walking, or invite them round to play?
13. Stick to a routine
Dogs love routine, so try and stick to the same one every day as much as you can; feed them at regular times, schedule in playtime each day, and even curl up on the sofa at the same time if possible. If your daily routine is going to change - for example, if you are going back to the office after a period of time-try to get your dog used to the new routine gradually.
14. Keep up their health checks
Get them regularly checked out by a vet and keep their vaccinations up to date. A healthy dog is a happy dog! 
With regular visits, not only will you ensure you have a healthy pooch, but you'll support and build familiarity, to help your dog feel comfortable, confident and stress-free when you visit.
Have a go at our Happy Dog Quiz and find out more about your dog's happiness!
Following our expert tips will help to ensure your bond with your dog goes from strength to strength.
Make sure to join our community for weekly advice from our dog behaviour experts as well as product offers and competitions. 

Related Posts
Legal notice The information collected is intended for Ceva Santé Animale and the group in order to manage your requests. This information can be shared with service providers in order to organize their management. In accordance with the General Data Protection Regulations, you have the right to access, rectify and limit the processing of your data. You can also, in certain cases, object to the processing, withdraw your consent and request the deletion and portability of your data. For any request in relation to your personal data, please visit this page.