What Plants Poisonous To Dogs?
Written by ADAPTIL Expert, published on September 01, 2023
We all know dogs are curious by nature, but is their tendency to explore the environment putting them at risk? While most dogs will usually avoid eating anything they know to be poisonous, some plants are toxic to dogs if accidentally ingested. We've put together a helpful guide to keep your furry friends out of trouble.
Are Plants Poisonous To Dogs
Dogs love to explore the world around them, and when they do, they rely heavily on scent. Unfortunately, this curiosity means there is always a risk of them accidentally chewing or eating a plant that they shouldn't! In some instances, these plants are dangerous for dogs.
It's worth noting that not all parts of a plant are necessarily toxic. For example, green leaves are often more of a problem than fallen brown leaves, while berries are more dangerous than stems. Still, it makes sense to keep your dog away from the whole plant to stay on the safe side.
Below, we've included a list of plants that are poisonous to dogs. Please bear in mind this list isn't definitive and will vary depending on the region. If you'd like more tips for looking after your dog while out walking, check out our Spring walking guide!
Plants Toxic For Dogs – What To Look Out For
Azalea

kjjjhjkhkh

Bergenia (elephant ear plants)

Bulbs (bluebells, daffodils, hyacinths, tulips etc)

Castor bean plant

Crocuses

Delphinium

Foxgloves

Giant Hogweed

Holly

Horse Chestnut

Ivy

Laburnum

Lilies

Mistletoe

Onion family (alliums)

Potato family

Pieris

Prunus family (apricots, cherries, plums etc)

Rhubarb leaves

Sweet pea

Tomato plant (though tomatoes themselves are fine)

Wisteria

Yew
Of course, unless you're an avid horticulturist, it can often be difficult to identify which plants are what. One solution is to download a mobile app that automatically identifies plants from your photos. Alternatively, if you're concerned a plant is dangerous for your dog, show a photo to your vet. They'll be best placed to advise you.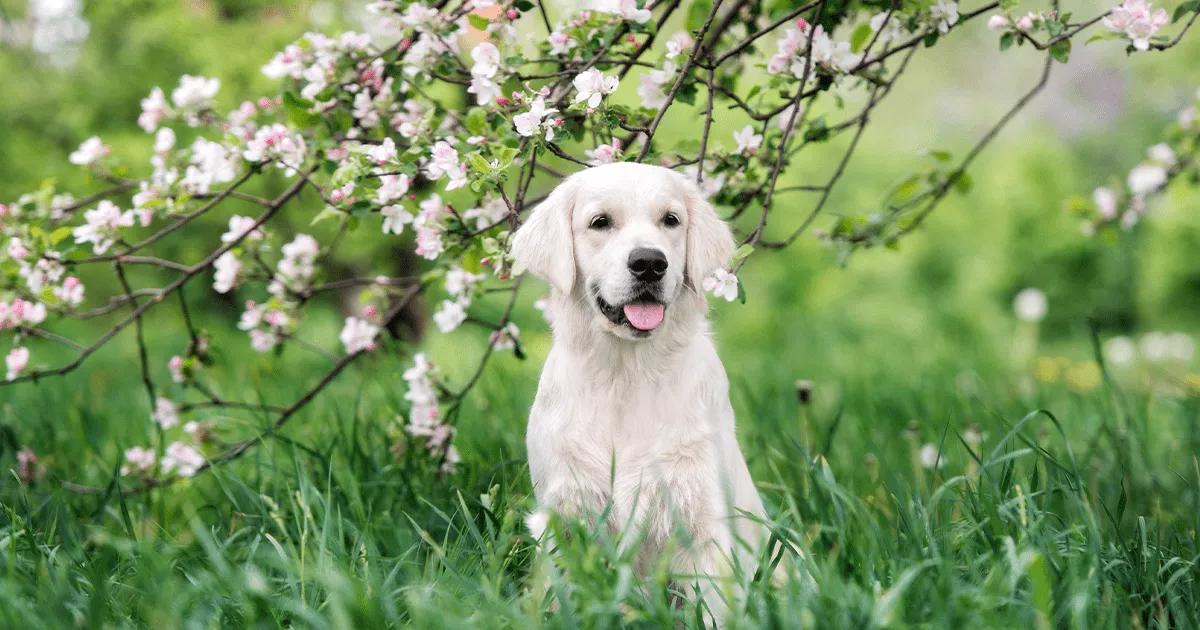 Concerned Your Dog Has Eaten A Toxic Plant?
If you think your dog has ingested something potentially dangerous, contact your vet immediately. Try to tell them what you think they've eaten, when, how much of it, and what symptoms you've seen. You should never try to make your dog sick, as this could create other issues.
Symptoms to look out for include:
Drooling

Drinking and urinating more

Loss of appetite

Low energy

Vomiting and diarrhoea

Pale gums

Twitching

Collapse
Tips For Making Your Garden A Dog-Friendly Space
Being able to identify poisonous outdoor plants for dogs is the first step in making your garden safe, but there are other precautions you can take for your home and garden too:
Grass clippings and compost

– These can contain dangerous moulds or bacteria, so it's best to make sure your compost is kept in a secure area or bin that your dog can't access.

Fungi and mushrooms

– Not all fungi are toxic, but some can be life-threatening. Check your garden to see whether any is growing. You're most likely to find fungi in autumn when conditions are warm and damp, so be particularly mindful around then.

Grass seeds

– Seeds can get stuck in your dog's skin, particularly around their paws and ears, causing irritation and infection. And remember, this is applicable anywhere with long grass – not just your garden!

Pesticides, fertilisers, and weed killers

– These often contain toxic ingredients so you should avoid spraying any areas your dog spends time in. If there are sections of your garden you need to treat, use a pet-friendly product to keep your pooch happy.

Acorns

– A one-off acorn can cause vomiting, diarrhoea, and sleepiness. If eaten more frequently, they can cause kidney or liver problems too. It's always good to pay attention to what your pup is rooting around for!

Keep your garden secure

– We know dogs love to explore, but sometimes that curiosity can lead to trouble! Make sure your garden is safe and secure to prevent your pooch from coming into contact with any

plants that are poisonous to dogs

. 

Use ADAPTIL Calm Collar to help with training –

When training your dog on which areas of the garden to avoid, consider using an

ADAPTIL

Calm

Collar to help them remain calm and adapt to their new surroundings.

Don't discourage your dog from exploring – If your dog loves digging and exploring in the garden, try to encourage this in such a way that doesn't bring them into contact with any toxic plants. You could create a specific place for digging and playing, add different textures for your pooch to experience, or raise the flower beds to limit access to the plants.
Check your garden for old fireworks – Leftover fireworks after celebrations can leave behind hazardous chemicals. Once the fun is finished, give your garden a once-over to clear up anything harmful.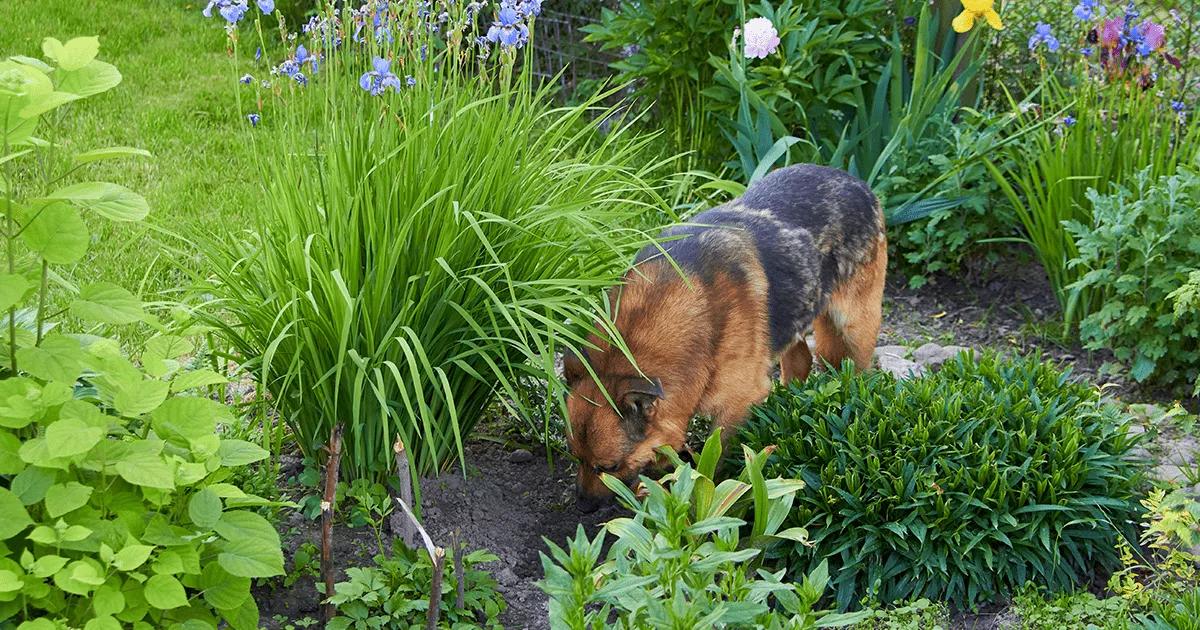 Are There Any Poisonous Houseplants For Dogs?
As well as poisonous outdoor plants for dogs, there are also several indoor plants that can be dangerous too. When considering houseplants to decorate your home, you should avoid:
Aloe

Amaryllis

Dumbcane

Peace Lily

Poinsettias

Yucca
Two common questions are whether poinsettias are poisonous to dogs and whether lilies are poisonous to dogs. The answer to both is: yes! Avoid them in your home if you're a dog parent, or if dogs ever come into your home.
Are you interested in finding out more about how you can safeguard your garden for your pooch, or would like to learn more about any of our ADAPTIL products? Please get in touch! We're always interested in hearing more about your dog's stories and how we can help. You can also stay up to date with our latest guides, Q&As, tips, and advice by signing up to our newsletter! 
Following our expert tips will help to ensure your bond with your dog goes from strength to strength.
Make sure to join our community for weekly advice from our dog behaviour experts as well as product offers and competitions. 

Related Posts
Legal notice The information collected is intended for Ceva Santé Animale and the group in order to manage your requests. This information can be shared with service providers in order to organize their management. In accordance with the General Data Protection Regulations, you have the right to access, rectify and limit the processing of your data. You can also, in certain cases, object to the processing, withdraw your consent and request the deletion and portability of your data. For any request in relation to your personal data, please visit this page.