Written by Adaptil, published on April 18, 2023
Thundershirt
What is ThunderShirt?
ThunderShirt is a jacket for dogs that applies gentle, constant pressure to help calm anxiety, fear and relieve stress. This gentle hugging produces a calming effect while slowing the heart back down to a normal rate. It is an easy to use and effective drug-free solution to reduce dog stress and fears and works even better when used in combination with ADAPTIL.
ThunderShirt has a soothing and relaxing effect on your dog's nervous system - it has a similar effect as swaddling an infant that has been proven to calm babies and it has also been used to help human anxiety disorders.
Studies have shown the effectiveness of Thundershirt in reducing anxiety, having a calming effect on dogs in anxiety-provoking situations1 The study found that the dogs wearing the ThunderShirt have a slower heart rate, and were less likely to orientate towards the door looking for their owner. Dogs wearing ThunderShirt also showed less tongue-flicking and yawning (stress reduction behaviours) when compared with dogs that didn't wear ThunderShirt. These studies show that ThunderShirt can be used to help dogs diagnosed with anxiety2 .
In a survey of over 1,000 users over 85% of dogs are less anxious when wearing this vest. The gentle pressure applied by the shirt has a relaxing effect that helps approximately 3 out of 4 dogs relieve their anxiety.
The ThunderShirt comes in a variety of sizes to best fit your dog and is available online here.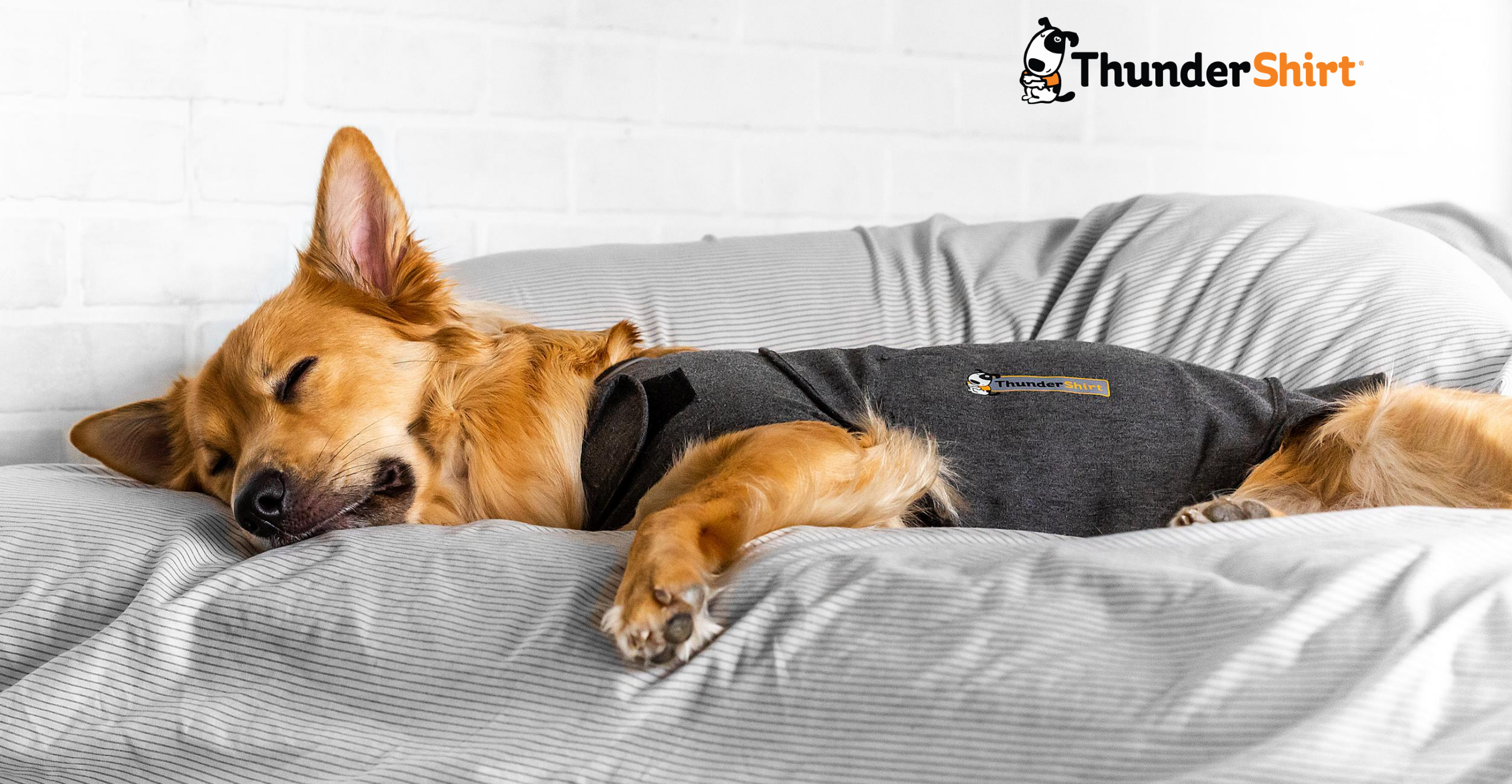 Click here to find out how to use a Thundershirt with ADAPTIL
1) Landsberg, G.M., Brooks M. L. and Milgram, N.W. The Use of a Laboratory Thunder Model to Test the Efficacy of Thundershirt'Ñ¢
2) (King, C., Buffington, L., Smith, T. J. and Grandin, T. (2014) The effect of a pressure wrap (ThunderShirt) on heart rate and behavior in canines diagnosed with anxiety disorder . The Journal of Veterinary Science, 9, 215-221)
Following our expert tips will help to ensure your bond with your dog goes from strength to strength.
Make sure to join our community for weekly advice from our dog behaviour experts as well as product offers and competitions. 

Related Posts
Legal notice The information collected is intended for Ceva Santé Animale and the group in order to manage your requests. This information can be shared with service providers in order to organize their management. In accordance with the General Data Protection Regulations, you have the right to access, rectify and limit the processing of your data. You can also, in certain cases, object to the processing, withdraw your consent and request the deletion and portability of your data. For any request in relation to your personal data, please visit this page.