Ways Your Dog May Help Through Lockdown!
Written by Adaptil, published on April 18, 2023
The companionship of man's best friendhas never been so important as it has been during the lockdown of 2020. There is growing evidence that our health and wellbeing are enhanced by having pets around us as they lift our mood, reduce loneliness and anxiety and, if your pet is a dog, keep us fit with daily walks.
Having pets around the home can be therapeutic; they are not only companions, but are our very best friends!
Ways your dog may help through lockdown!
Emotional support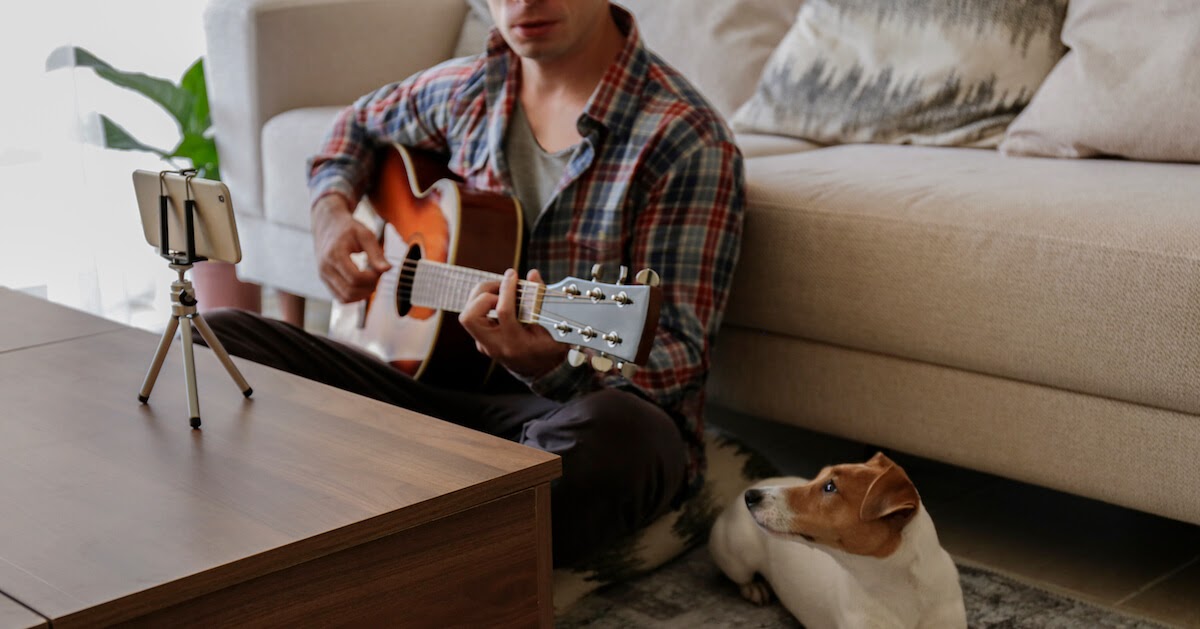 Having a dog around can be a diversion, and can help to reduce the stress that isolation has brought to many people; their unconditional loyalty, love and companionship is proven to have a positive effect on our mental health.
In a recent UK study of 6000 people, it was found that 91% of dog owners reported that their pet helped them cope emotionally during the first lockdown of 2020.
Surprising statistics from a Kennel Club spokesman report:
61% of owners found more comfort in dog companionship than human companionship!
41% felt their dog doesn't judge them!
30% feel their dog is there for them when no one else is!
Researchersfrom Colorado State University, Washington State University, University of San Francisco, and Palo Alto University who study human animal interactions also reported that:
55% said that being in lockdown with their dog strengthened their relationship
64%reported actively engaging with their dog MORE now than before COVID
When you are working from home, the presence of a pooch on video calls can also be a welcome distraction! They can lighten the mood; they can be 'in attendance' without interrupting, and they are another pair of ears if you need to voice any of your thoughts out loud!
And, away from work, they are also very happy to be by your side if you want to watch TV or go for your permitted walk outside each day (probably their favourite job!)
Dogs don't only help us during lockdown in our own homes. They have been found to be very beneficial in hospital conditions too - theJournal of Patient Experience,reported:
Teaching these animals commands or tricks helps patients gain more self-confidence, assertiveness skills, and patience and engages their cognitive functions. Other activities may include petting the animal, lying down or sitting with it while working from home, or even just cuddling with it.
Of course, you can also give your dog a little extra support! Using ADAPTIL Calmin the room where your dog spends the most time, can help them to cope with any unexpected stress or new situations in the home.
Establish a routine
Having a daily routine is important for both you and your dog. Starting your day at a regular time, perhaps with breakfast followed by taking your dog outside for a walk before you start work, is essential for you both. Dogs like to know what's coming next in their day; schedule in some time to move away from your laptop, have a coffee and make a fuss of your pooch. The same goes for your lunch break - and you might even have time to play some games with your dog in the garden!
32% of 2622 owners polled in the UK's Kennel Club, also stated that having a dog made sure that they had a routine and found the benefits of implementing a daily schedule.
Exercise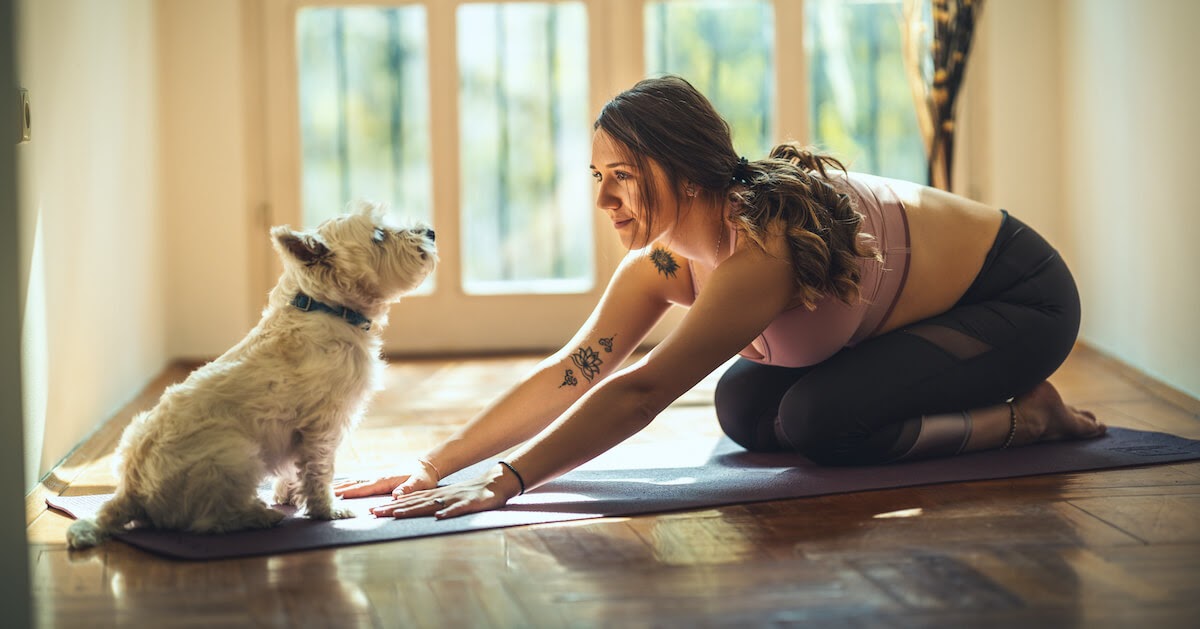 With the closure of health clubs, sports halls and other ways of keeping fit, regularly walking a dog has been an ideal way of getting exercise during lockdown. It has been a good reason to leave the house (within local permitted rules, of course) and it has also provided the opportunity to speak to other dog owners (socially distanced) and make new friends!
Provides someone else to care for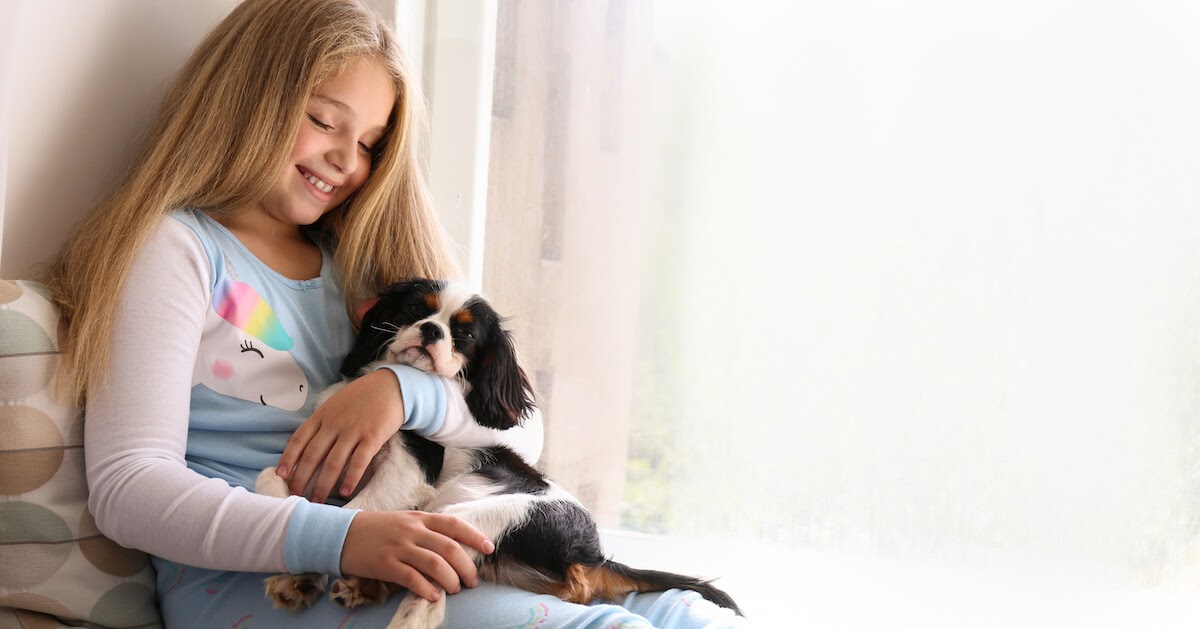 The bond between a human and their dog goes both ways. While your dog is helping you through this crisis, it's also important that you take care of them! Remember that they can detect signs of anxiety and stress in you.
In ourrecent survey, we found that 46% of dog owners felt that their dog was picking up on their own human stress and that 68% of owners said they were worried about their pets during lockdown. However, 95% found that their relationship with their dog had improved and 39% felt their dog had become closer to the family during this time.
It's important that your dog's needs are also considered during lockdown; if they get stressed, this can impact you too.
So, don't forget to return the favour when you return to work. Make sure you prepare your pooch for the fact that you won't be around all day and they will have to get used to being home aloneagain.
In the meantime, take advantage of the time together - whether it's playing games, going for a walk, learning new tricks or just sitting by the fire - it can be therapeutic for you both.
And, if you haven't already made your New Year Resolutions for 2021 - take a look at these'7 Resolutions to Make with your Dog' and make sure that both you and your best friend look after each other as we go through 2021.
Following our expert tips will help to ensure your bond with your dog goes from strength to strength.
Make sure to join our community for weekly advice from our dog behaviour experts as well as product offers and competitions. 

Related Posts
Legal notice The information collected is intended for Ceva Santé Animale and the group in order to manage your requests. This information can be shared with service providers in order to organize their management. In accordance with the General Data Protection Regulations, you have the right to access, rectify and limit the processing of your data. You can also, in certain cases, object to the processing, withdraw your consent and request the deletion and portability of your data. For any request in relation to your personal data, please visit this page.