Understanding Your Dog's Body Language During Fireworks
Written by Mary Brandom, published on October 24, 2023
Fireworks can be a stressful and scary time for your dog whenever they occur. Even more so, for dogs in parts of the world that host more than one night, or often weeks' of firework evenings as celebrations. For pet parents across the globe, knowing how to spot if your dog is scared of fireworks is essential. Not only to assure their comfort but also for applying that knowledge further!
For example, understanding a dog's body language can also then help with noticing when they are uncomfortable in other situations. Especially where similar responses are displayed, this in turn helps us provide better support for a behavioural-related problem. Whether it be a dog's firework anxiety, fear or nervousness, you can find the solution that best fits their needs.
The Research Backs It Up!
Studies (Dale et al 2010 and Blackwell et al 2013) have shown that up to 50% of dogs display signs that they find fireworks frightening. Moreover, a Kennel Club Survey in 2021 found that a whopping 75% of owners notice a change in their dog's mood. These figures highlight the difficulties our dogs face during this period and the need for a stable and consistent routine to minimise the stress they face. 
Dog Firework Anxiety & Nervousness – The Warning Signs
So, how can we, as pet parents, family, and sitters, spot signs of stress or fear through our dog's body language? Well, there are many different behaviours that can indicate a dog is scared of fireworks. Below, we've listed a few key signs that show us they are worried about them, but it's worth noting that some dogs might only display one sign while others could display multiple signs at once. Each dog is unique and the way they show their nervousness can be just as different! If you're unsure whether their behaviour is a sign of nervousness or anxiety, ask yourself if your dog is always displaying the same signs or whether they can vary over time. Possible signs of fear can include:
Trembling/shaking

Restlessness/pacing

Flattening of their ears

Dilated pupils

Hiding (maybe in places you don't expect, e.g. in the bath, in a wardrobe)

Destructiveness

Chewing

Panting

Yawning

Salivation/drooling

Whining/barking

Trying to escape

Toileting

Seeking attention (or becoming clingy)

Lowered body posture and tucked tail

Vigilance
Of course, these can also mimic other issues. Some of these could be more serious and require veterinary attention. If you're ever unsure on your dog's body language, it's always best to speak to your vet or behaviourist professional.
What Can You Do To Help?
The best thing you can do for any situation your dog finds challenging is to plan ahead. That's where we come in. Our ThunderShirt by ADAPTIL calming coats for dogs and ADAPTIL Calm Diffusers are robust and reliable methods that are used worldwide by millions of dogs. These can work both collectively, or stand-alone, to provide reassurance and comforting messages to your dog.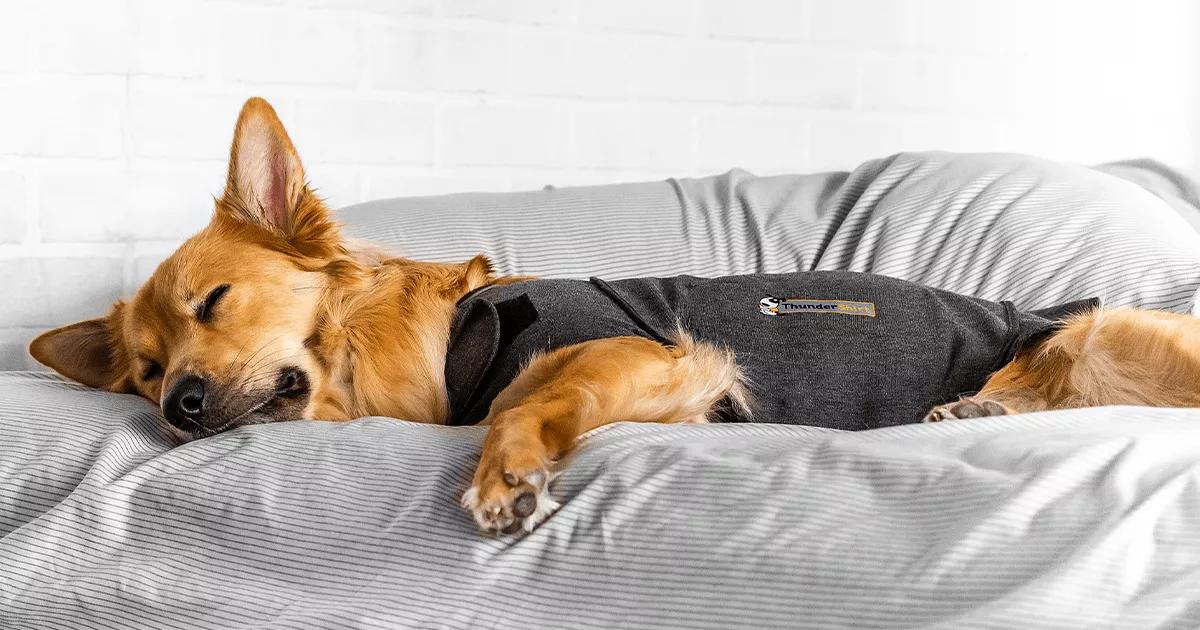 For dogs, ThunderShirt by ADAPTIL is one of our recommended solutions for supporting your pup during the few hours that fireworks may be going on for each evening. Known for its efficacy, the ThunderShirt Calming Wrap helps dogs to relax during times of nervousness. With a patented design, your dog receives a light level of pressure from the jacket that helps them to feel reassured and safe. From 4th of July celebrations to Bonfire night, and more, ThunderShirt for dogs can be used for many situations.
ADAPTIL Calm Diffusers are great for 24/7 at-home support. As opposed to a dog's anxiety vest which is worn during times they experience the most elevated levels of stress, a diffuser works continually. If your dog is scared of fireworks, we recommend installing the plug-in a couple of weeks before the expected period. This will help by ensuring your dog is relaxed during the run up to the fireworks. In terms of your dog's body language, results from studies have found a 100% reduction in panting or destructive behaviour, and 83% of dogs no longer displaying restlessness, while 67% stopped hiding. ADAPTIL Calm is scientifically proven!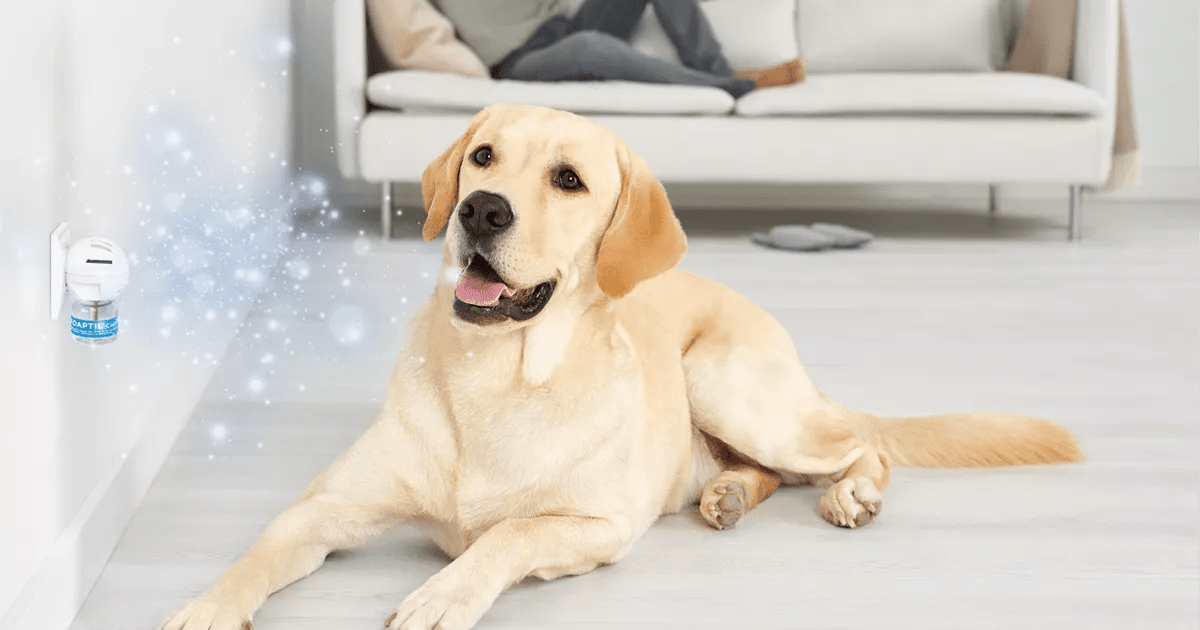 Need a little help on deciding which solution is best for your dog's firework anxiety? Or not sure if your dog needs more than one method of support? Take our free and super quick quiz to help find the best solution for your pooch!
ThunderShirt by ADAPTIL Dog Experts
If you'd like to know more on why dogs are scared of fireworks, or other topics such as challenging situations or how to calm down a dog during fireworks, we have a number of other articles for you to read through. Our Happy Dog Experts have also shared numerous insights of their own on all things dog behaviour. You can also stay up-to-date with our tips and advice for dog owners by subscribing to our newsletter.
References: Sheppard and Mills (2003) Vet Rec 152:432-436
Following our expert tips will help to ensure your bond with your dog goes from strength to strength.
Make sure to join our community for weekly advice from our dog behaviour experts as well as product offers and competitions. 

Related Posts
Legal notice The information collected is intended for Ceva Santé Animale and the group in order to manage your requests. This information can be shared with service providers in order to organize their management. In accordance with the General Data Protection Regulations, you have the right to access, rectify and limit the processing of your data. You can also, in certain cases, object to the processing, withdraw your consent and request the deletion and portability of your data. For any request in relation to your personal data, please visit this page.