Taking a Dog To Work? 14 Things To Remember!
Written by Adaptil, published on April 18, 2023
Note the date!Thousands of businesses and dog owners alike across the UK will join in the fun on 'Bring your dog to work' day on 25 June 2021 to raise funds for a number of dog charities dedicated to making a difference to the welfare of dogs.
Are you thinking about taking your dog to work? A survey fromBanfield Pet Hospital showed that 71% of Gen Zers and 48% of Millennials are planning to request a pet-friendly policy once offices open again and people return to work - and 75% of C-suite Execs say that these requests will be carefully considered.
Benefits of Taking a Dog to Work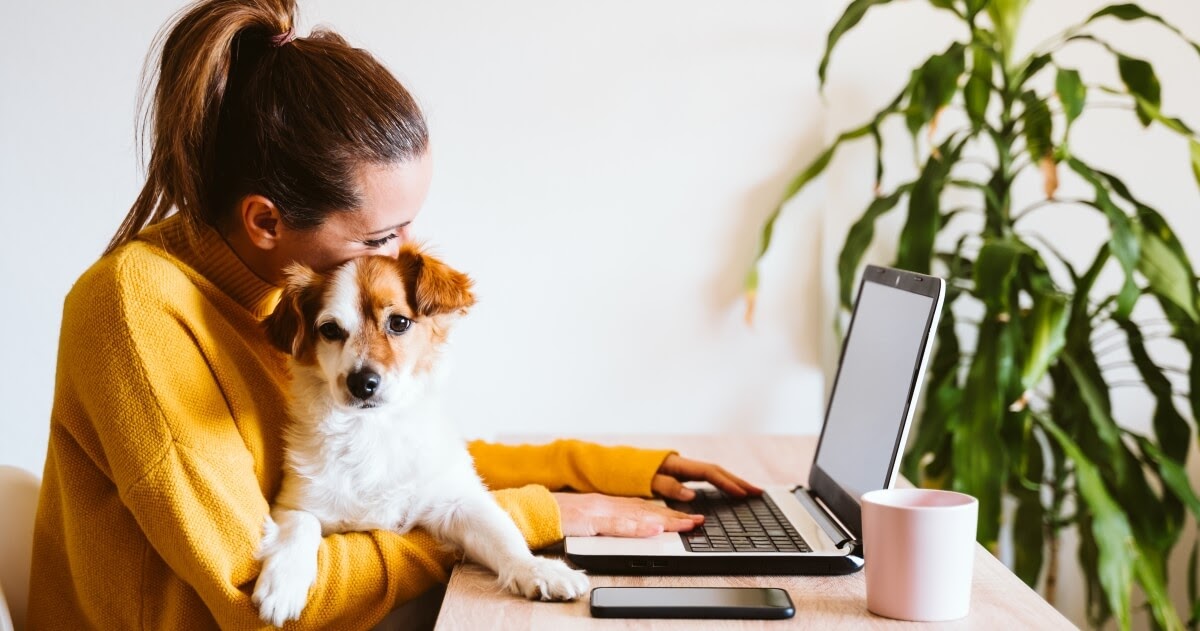 As many people have found during the pandemic, having a dog around helped them cope emotionally, their relationship with their dog improved, and they felt their dog had become closer to their family during this time. So why not capitalise on this?
A number of reports and surveys have indicated the benefits of taking a dog to work.
Banfield's survey revealed that, of those employers who already had a 'Take your Dog to Work' policy in place:
Emerald Insight's'Preliminary investigation of employee's dog presence on stress and organisational perceptions'found that people who took their dogs to work were less stressed as the day progressed, than those that didn't.
In the UK a Blue Cross study found that less than 90% of businesses that allowed dogs at work had seen a positive change in the working environment. 50% had seen a decrease in absenteeism and 67% said it improved staff morale (dogs have a way of bringing people together!)
Another study from Frontiers in Veterinary Sciencefound that of 749 people who took their dog to work frequently reported higher than average work engagement, had higher scores on general wellbeing, home-work interface, job career satisfaction and overall work quality of life compared to those that never brought their dog to work.
67% saw increased socialising between employees when pets were around
61% said employees were more willing to come to work
42% saw increased productivity among staff
41% said employees were more willing to stay at work later
31% saw increased retention
And 24% said employees seemed happier in the office/workplace
Although your primary role when at work is to get the job done, having a dog with you at work has many health benefits too (both physical and mental) for you and your dog.
You will take more screen breaks, even without thinking, alleviating eye strain.
You will take your dog out for a walk in the fresh air, meaning you get exercise during the working day.
It breaks down barriers - who can resist stroking a dog as they pass by your desk?
Stroking a dog also has a calming effect on both you and your pooch, alleviating stress.
Your dog will benefit too! Some dogs struggle with being left at home, particularly if they have had your companionship during the pandemic, so they may benefit from a day in the office.
Taking a Dog to Work: 14 Things to Remember!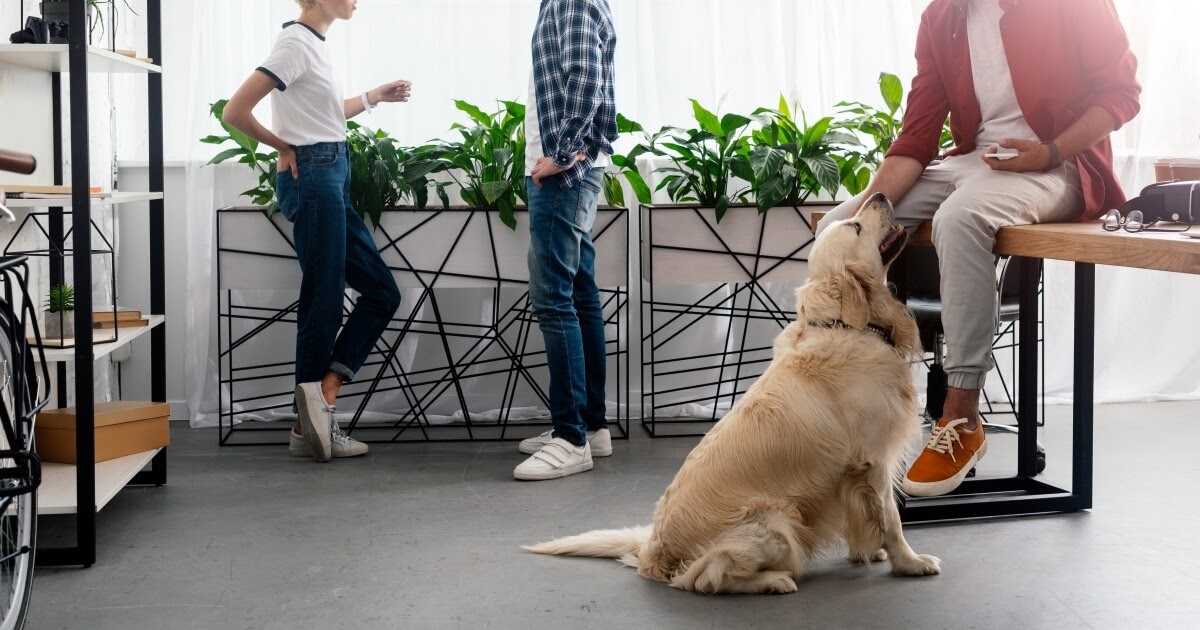 Check that your dog will be welcome in the workplace as not all offices are good doggie environments. Also, some of your work colleagues may have allergies that might be sparked off by a dog being in close proximity.
Check with your co-workers that they have no objection to sharing their office with a dog; some people may have a fear of all canines, no matter how friendly they are.
If you have other colleagues that bring their pooches to work, it's a good idea to check that both dogs are friendly and will get along first - introducing them in a neutral environment before bringing them to the office. Consider using an ADAPTIL Calm On-the-Go Collar to help your doggos feel more at ease and provide a reassuring environment.
Is your dog healthy and housetrained? Toilet accidents will probably not be very welcome in the office!
Is the office pet friendly? Be aware of items that your dog might find interesting, but could well be dangerous - for example, power cables, rubbish bins, people's bags with personal belongings. If your pooch is going to be able to roam freely around the office, your co-workers need to be aware too so that they can zip up their bags and ensure their lunch doesn't get swiped by your pooch!
Most business insurance policies will not cover dogs on their policy so you may have to consider taking out a third party insurance that will cover the dog in case of any accidents. Check with your pet insurance company.
Make sure your dog is sociable and doesn't mind meeting new people. There is no doubt that they will get a lot of attention!
Prepare for your commute. Do they like travelling in a car-you don't want them to be travel sick when you arrive.
Follow these doggie wellbeing to keep your pal comfortable throughout the day:

- Give them a good walk before you go to work so they will be tired and relaxed.
- Make sure they have their water bowl handy.
- Take their favourite blanket or bed with you, so they have a familiar place to relax in.
- Keep them busy with their favourite toys, a puzzle feeder or a chew and have treats with you so that you can reward them when they are good.
- Factor in regular breaks into your working schedule, for a short walk and comfort breaks with your dog.
- Be prepared in case of an accident (e.g. disinfectant spray, wipes, kitchen towel, poo bags)
- Will there be other dogs in the office too? Make sure they get on - you want to avoid any conflict!
- Will there be other dogs in the office too? Make sure they get on - you want to avoid any conflict!
Keep your dog under control at all times. Let people approach your dog, rather than the other way round as not everyone will be comfortable with dogs.
Keep an eye out for signs that they are uncomfortable; panting excessively, licking their lips or yawning, or if they are trembling or cowering are all signs of anxiety.
Make sure your dog is obedient and will obey simple cues, like 'sit', 'stay' and 'come'. You need to be in control at all times so that the office is not disrupted.
Make sure your dog is adaptable and not overly protective of you if someone else approaches. If this is the case, you may want to reconsider taking them to work.
Is there someone who would be willing to keep an eye on your dog if you are called into a meeting, or you need to visit the loo?
If you are considering taking your dog to work on a regular basis, have a trial run to see how your dog gets on.
Using an ADAPTILOn the go Collarwhenever you travel with your pet or take them on new adventures, will release comforting support messages (scientifically called Dog Appeasing Pheromones). They are odourless, are only perceived by dogs and will provide a strong signal of comfort and security to dogs of all ages.
Following our expert tips will help to ensure your bond with your dog goes from strength to strength.
Make sure to join our community for weekly advice from our dog behaviour experts as well as product offers and competitions. 

Related Posts
Legal notice The information collected is intended for Ceva Santé Animale and the group in order to manage your requests. This information can be shared with service providers in order to organize their management. In accordance with the General Data Protection Regulations, you have the right to access, rectify and limit the processing of your data. You can also, in certain cases, object to the processing, withdraw your consent and request the deletion and portability of your data. For any request in relation to your personal data, please visit this page.