Stop Your Puppy from Chewing Everything
Written by Adaptil, published on April 18, 2023
Why Do Puppies Chew Everything?!

Chewing is a natural instinct for puppies - it's their way of exploring things! After all, they don't have hands to pick things up so they use their mouth to taste and explore new objects. Dogs may also chew to relieve anxiety or for stimulation because they're bored - and puppies might chew if they are teething and it helps to relieve the pain!
Unfortunately, they don't always chew the right things and you might come home to find you're left with only one slipper or a sofa cushion is in shreds all over the floor!
So, how can you stop your puppy from chewing everything?


How To Stop Your Puppy Chewing Everything
Firstly, if you are leaving the house for any length of time put any 'tempting' items out of reach.
Secondly, provide them with their own items to chew on to keep them busy. Chew toys and food puzzles will keep pooches distracted for a while and, with a bit of luck, will help them feel sleepy enough to nap until you are back!
However, if you are going to be out for more than an hour or so, consider leaving your pup in a crate, with all of their resources - toys, blankets, chews and water. You may also need to arrange for someone to come in and take them out for a short walk or keep them company for a short while, to relieve their boredom and give them some exercise to tire them out.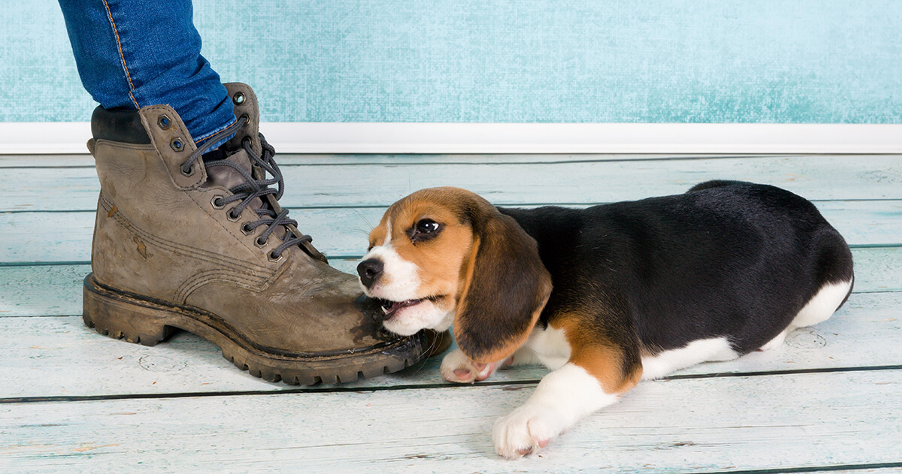 1. Play with their toys
Puppies are playful so introduce new toys to them through play, and encourage them to chew their new toys, so that when they are alone they will continue to chew it and nothing else!
If your puppy starts to 'mouth' your hand and starts to bite (even in play), immediately direct them to a suitable toy which they are supposed to chew. Don't encourage them to chew your hand - this will teach them bad habits - and it can hurt!
If your puppy is teething, they are likely to chew anything to relieve the pain - but you need to direct them away from your slippers and furniture! Thinking ahead a little and getting a food puzzle, or putting some soft toys in the freezer so that can leave them for your pup when you leave the house - will keep them busy and also help relieve the pain.


2. Be calm and patient!
Take time to learn what puppies need before you bring them home. Expect them to get excited, jump up and try to mouth your hand - so take time to teach them what they should do - and what they shouldn't do.
Be patient whilst training your puppy and try not to be tempted to play the way they want to - even though they're cute! Train them not to jump up, bite or growl , and train them in a positive reward-based way using their own toys, a chewable bone or a tug of war rope. This will encourage them to play with the toys when you're not around and not your furniture or slippers!
Channel their energy into playing with the things they are allowed to play with! However, if they continue to chew something they shouldn't, distract them with something else - or remove the item and walk away; they love attention and won't like it when you stop playing.

3. Puppy-proof your home!
Remove any tempting items from your puppy! After all, they are still learning what they can play with - and what's out of bounds! Read our 6 top puppy proofing tips!
The best way is to ensure you remove all temptation; i.e. slippers, socks, children's toys, fluffy cushions - and put them out of reach. It's also important they can't get their teeth into toxic plants or food (like chocolate) or electric wiring as these could be dangerous for your puppy.
Consider leaving them in a crate while you are away, or in a puppy-proof room behind a gate but ensure they have plenty of puppy toys, blankets, food and water handy.
If you find your puppy is still being destructive and chewing things they shouldn't, there may be some underlying problem so get your vet to check them over to rule out anything medical issues. Once you have the all clear, persevere with the advice above.
You can also support your pet's learning and development with ADAPTIL Junior - this Collar provides comforting messages to relax, calm and support your pooch. This provides your pup with reassurance, using a copy of the comforting messages released by the pup's mother when they were together - diffusing a strong, safe and secure signal to help your doggo through challenging situations.
Following our expert tips will help to ensure your bond with your dog goes from strength to strength.
Make sure to join our community for weekly advice from our dog behaviour experts as well as product offers and competitions. 

Related Posts
Legal notice The information collected is intended for Ceva Santé Animale and the group in order to manage your requests. This information can be shared with service providers in order to organize their management. In accordance with the General Data Protection Regulations, you have the right to access, rectify and limit the processing of your data. You can also, in certain cases, object to the processing, withdraw your consent and request the deletion and portability of your data. For any request in relation to your personal data, please visit this page.