Rainy Day Walks: 12 Tips For a Happy Pooch
Written by Adaptil, published on April 18, 2023
In the wild, dogs run, walk and explore to find food and to check out their surroundings - it's a natural instinct that our domestic canine pals still have.
They instinctively know that going for a walk is good for them, and helps boost their natural hormone levels. That, in turn, reduces stress and helps with their mental wellbeing! It's also great fun as they get to spend time with their human parents, play games, investigate new smells and interact with other dogs too.
A good walk should always be part of your dog's daily routine - rain or shine - and although we don't always relish the thought of trudging through muddy fields in the rain, if you are well prepared, you and your dog can enjoy those Rainy Day Walks!
12
Tips for a Happy Pooch on a Rainy Day Walk
It's good to get your pooch used to the rain when they are puppies - they will learn from the start that rain is a normal occurrence and will accept it as they grow older.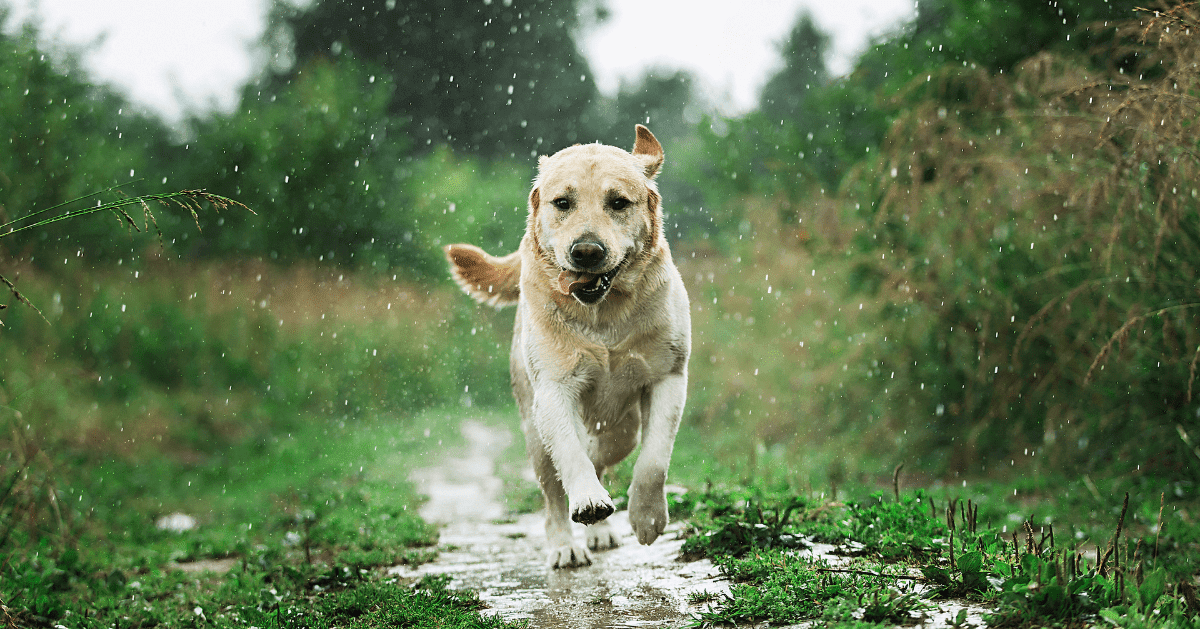 Keep your dog's safety in mind.
Remember that rain might enhance the noise of passing traffic; this might scare your pooch so keep them on a short lead and remember to reassure them if they show signs of being nervous. Taking a different route - away from traffic noise - is a good alternative.
A passing car may cause your dog to get splashed and may startle them. Try to walk with your dog on the inside, furthest away from the road - so that any splashes will hit you before hitting your dog. You may not enjoy the thought, but it will be safer for your best friend!
Steer your dog away from drinking puddle water - although rainwater is relatively clean, puddles may get contaminated by dirt, leaves, animal droppings, insects, chemicals and litter- which could lead to infections such as leptospirosis or even antifreeze poisoning. If your dog shows any signs of being poorly after a rainy day walk, get them checked out by your vet.
If your rainy day is accompanied by a thunderstorm, postpone your walk until the storm has passed. Remember dogs have super sensitive hearing, and frequently get spooked byloud bangs and flashesand could easily bolt if you are outside.
Rainy weather is usually accompanied by overcast skies, and less daylight. Keep your pooch visible by using a reflective collar, vest or harness. This way, their doggie shape will be picked up by passing headlights.
Wear the right clothes! Keep an eye on the weather forecast and if there is any sign of rain, make sure you are also wearing the right footwear and carry an emergency wet cover-up to keep dry. Don't forget that your dog will pick up on your mood from your body language, and if you show any signs of being worried about getting caught in the rain, they will too!


Be Prepared

Consider a coat for your dog. This will provide protection from the rain and also help to keep them warm if the temperatures are low - and it will limit the amount of dog-washing needed when you get home!
If it's really bad weather, consider shortening your walk and allow just enough time for your dog to complete their bodily functions. Two shorter walks rather than one long walk would be a good idea in poor weather.
If your dog shows any signs of anxiety when out walking on a rainy day, consider using an ADAPTIL Calm Collar to help your dog stay calm and adapt to outdoor situations - and they also work perfectly well on rainy days.
Remember that rain enhances smells, so your dog may spend more time sniffing and exploring! Be prepared and don't try to pull them away - give them time to indulge their natural instincts!
Because their sniffing and exploring instincts will be more enhanced in the rain, make sure your dog doesn't wander too far - keep theirtrainingon track so that you can recall them if necessary.
Be prepared for your return home!
- If you have driven to a park for your walk, make sure your car is well protected from a muddy dog. Have plenty of old blankets to hand that can mop up any mud until you get home.
- Leave a towel by the door for immediate use on your return.
- Make sure you clean between all doggie toes to avoid any dampness turning into sore feet. Dogs like to clean themselves and if they lick their toes after a walk, they could digest dirt and grime.
- Before you leave for your walk, close doors to areas where you don't want a soggy dog! If possible, encourage them to lie on a comfy blanket in a warm place, until they are dry and clean again and allowed to access all areas.
- Make sure you have clean water in their bowl - they will probably be thirsty after an energetic walk.
If, however, the weather is really unpleasant - even for an intrepid dog walker - think of ways to exercise your dog indoors. Practice your training, play a game of hide and seek, or even create an indoor obstacle course!
The storm will soon pass and you can be on your way outside on your doggie adventures again!
Following our expert tips will help to ensure your bond with your dog goes from strength to strength.
Make sure to join our community for weekly advice from our dog behaviour experts as well as product offers and competitions. 

Related Posts
Legal notice The information collected is intended for Ceva Santé Animale and the group in order to manage your requests. This information can be shared with service providers in order to organize their management. In accordance with the General Data Protection Regulations, you have the right to access, rectify and limit the processing of your data. You can also, in certain cases, object to the processing, withdraw your consent and request the deletion and portability of your data. For any request in relation to your personal data, please visit this page.