My Dog Has Car Anxiety, How Can I Help?
Written by Adaptil, published on April 18, 2023
Taking your dog with you on car journeys can be great fun! If you start your adventures when your pooch is young, it will quickly become part of their routine.
However, it's not always a straight forward journey! Some dogs seem to want to avoid getting into the car at any cost; does your dog whine, shake or make it very clear they don't want to get in?
Why Is My Dog Anxious Around the Car?
It is not uncommon for puppies and younger dogs to experience motion sickness, often because their balance has not fully developed. But it's usually a phase that they outgrow.
Any reluctance to get into the car - whatever the cause - could be a sign that your dog has some car or travel anxiety. Triggers include the association of car sickness, a trip to the vet, or simply the fact that the car is a new, unfamiliar or scary place!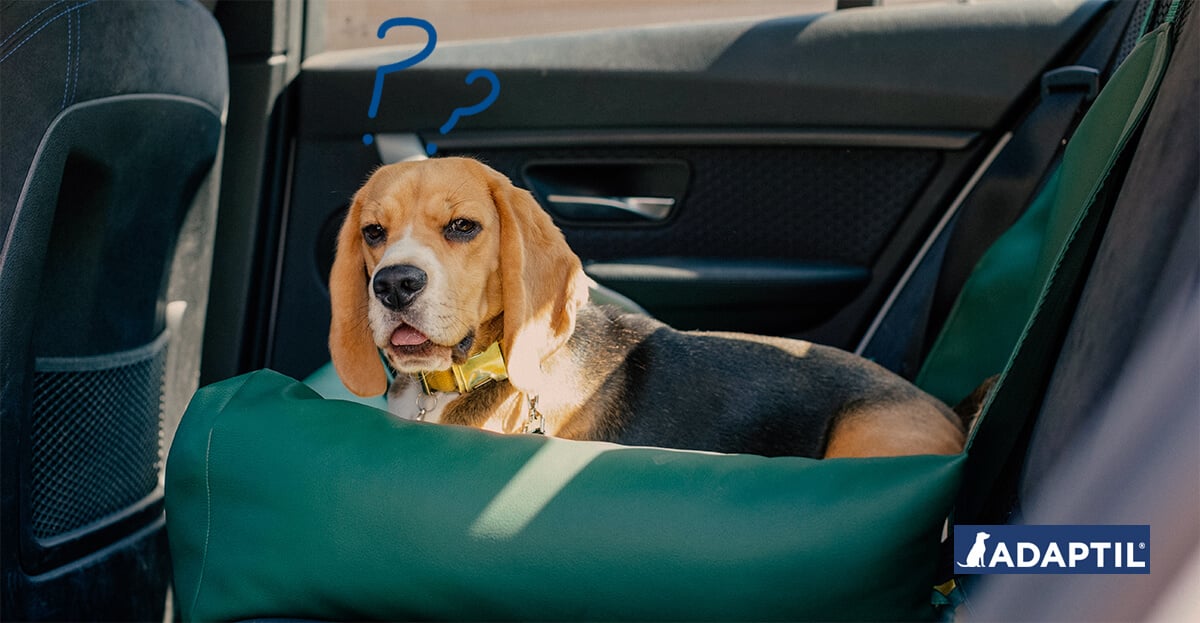 Car anxiety can make dogs drool, foam at the mouth or even vomit at the thought. If your pet is showing these signs of car-related stress, you should always start by checking with a vet to ensure your pet has no medical conditions that might be triggered by a car journey.
Once you are happy that there is no underlying medical condition, you can try the tip below to turn the situation around!
Tips to Ease Your Dog's Car Anxiety
Help your pet associate the car as a positive experience!
If your dog only goes in the car to visit the vet - or to go somewhere they don't like - they may be associating a car journey with a negative experience.
However, if your dog learns that the car can also mean positive things - a nice walk in the woods, or a trip to the park to play or meet some poochy pals - they might be more willing to jump into the back!
A little advance planning, and regular routine trips to fun places could help.
Try Treats
What dog doesn't like treats? If your dog is scared of the car itself, try using treats and encouragement to help them to learn that the car is not something to be afraid of.
Start by introducing your dog to the car slowly. Walk them around the car when they are calm - firstly without putting them inside. Give your dog a treat or reward when they stay calm, so that they develop a positive association with being close to the car.
After a few times doing this, open the door and place treats inside the car to entice your dog to jump in and learn that there is nothing scary inside! Be sure to reward them when they react positively - and always stop if your dog becomes stressed. Placing familiar items such as toys or blankets inside the car will help it feel like a doggy safe space and show them it's OK!
Try a Crate
Quite frequently dogs associate a crate as 'their space'. So if you use a crate indoors for your pooch, consider using a crate in the car too. A nice comfy blanket with some favourite toys placed inside the crate will help your dog feel at home when they get into the car - they may even forget that they are inside!
Regular and Often!
To build up your pup's confidence, encourage them to get into the car a few times without even going anywhere. They will then associate this positively and quickly realise the car is nothing to be worried about. Remember to praise and reward your pet for being calm - introduce them to the car bysitting with them in the car with the engine off and then switch the engine on but remain stationary. When you feel that your pooch is comfortable then you can try travelling just a short distance and let them out again, praising them all the time.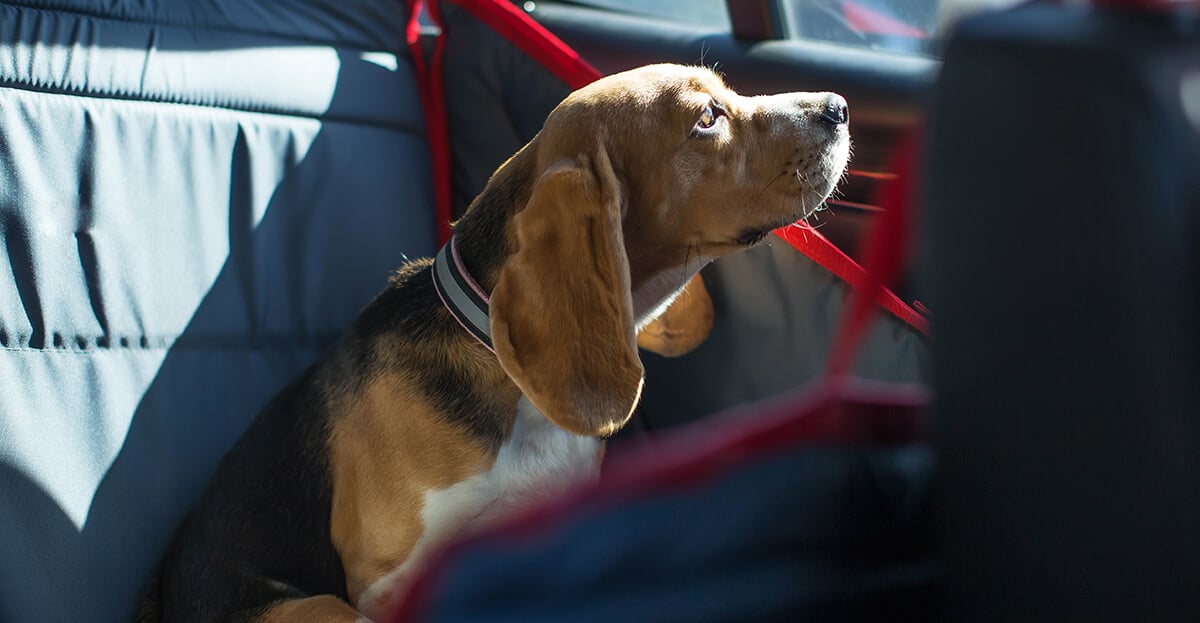 Take It Slowly!
It's a good idea to gradually increase the length of journey times. Try to build the journey length slowly and frequently, and remember to always reward your dog when they react well to a car journey. This will help them associate being in the car in a positive way - you'll soon be able to take longer road trips together!
Remember; if your pet shows any signs of travel stress, you may have to go back one step and try shorter journeys again.
Take Your Pet to Nearby, Fun Places!
Short journeys to a park or field for a lovely walk will soon help your dog associate a car journey with something they love doing. A stop off at somewhere nice will also help to tire out your pet, helping them relax for the journey home. If you have a long journey planned, regular play and comfort breaks are a good tactic to calm and tire your dog, and make the trip less stressful for you both!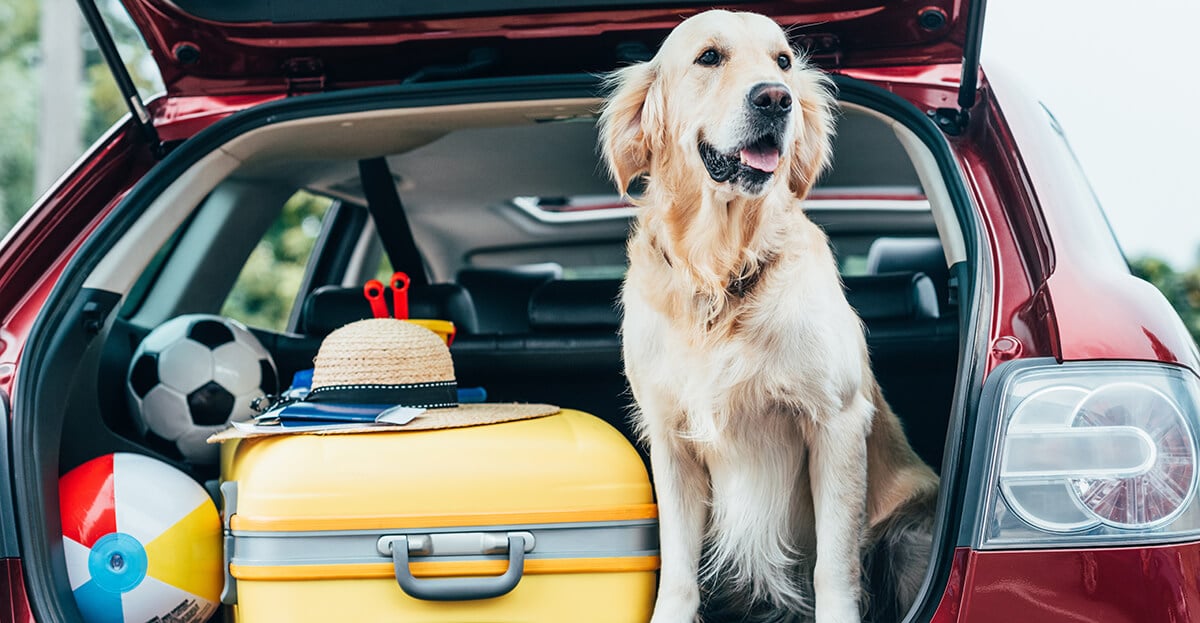 Let Them See What's Happening
Some dogs like to look out of the window as they are travelling; if your dog wants to, it may calm them to see what's going on. Of course, if your pooch is susceptible to motion sickness, it's best to cover the window so they can't see everything moving quickly.
Whenever you are in the car with your dog, always ensure there's plenty of air circulating to keep them cool and calm.
Don't Leave Your Pet Alone In The Car!
Once your dog is happy to travel in the car, enjoys their outings, as knows that the car can be a good place, it's important to make sure they are safe and happy at all times. For this reason you shouldn't leave your dog alone in the car for any more than a few minutes - doing so can make your dog feel trapped and abandoned and undo all the positive feelings they now have.
This is especially true if your dog has been a little unsure of the car or being alone before - and be sure to never leave them as it can be very dangerous for a dog to be locked in a car, especially on warm days.
Limit meals before a trip, and have regular stops
If you have a long car journey ahead, it's best that you do not feed your pooch a big meal just before you leave - this can have unpleasant consequences! Make sure your dog has a meal a few hours before you set off. It's fine to give them some small treats during the journey though! You should also take your pet for a good walk before the trip, ensure they have access to water and stop regularly for toilet breaks.

Try calming spray from ADAPTIL
If you feel you need a little extra help, ADAPTIL Transport can help calm your dog when on the move, as it releases comforting messages that reassure your dog, making journeys less stressful.
ADAPTIL Transport is clinically proven to reduce panting, trembling and restlessness during travel. During car journeys, spray directly in your car or in your dog's carrier or on their blankets. Always wait about 15 minutes before letting your dog back in the car and during long car journeys: re-spray every 4-5 hours.
For dogs that need more support we recommend using ThunderShirt which applies gentle pressure to your dog as well as using ADAPTIL Transport in the car. You can also spray it on your dog's ThunderShirt!
Following our expert tips will help to ensure your bond with your dog goes from strength to strength.
Make sure to join our community for weekly advice from our dog behaviour experts as well as product offers and competitions. 

Related Posts
Legal notice The information collected is intended for Ceva Santé Animale and the group in order to manage your requests. This information can be shared with service providers in order to organize their management. In accordance with the General Data Protection Regulations, you have the right to access, rectify and limit the processing of your data. You can also, in certain cases, object to the processing, withdraw your consent and request the deletion and portability of your data. For any request in relation to your personal data, please visit this page.