Is Your Dog Being Clingy?
Written by Adaptil, published on April 18, 2023
Many of you have reported changes in your dogs since the lockdown, one of these reported signs is being clingy. This is something that can be seen in dogs that are worried and are trying to get reassurance from something that is comforting - you!
If you need to get your dog used to spending time alone, start early and follow our top tips to help you and your dog in the future.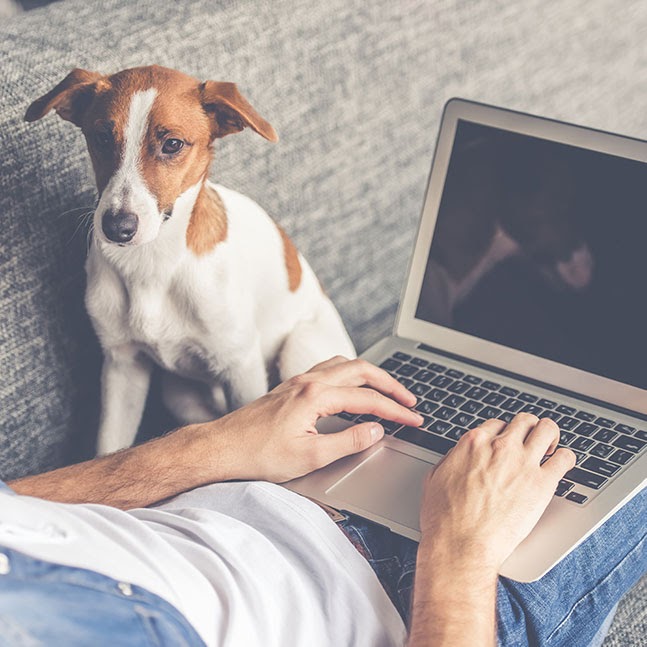 How to help prevent and stop a dog from being clingy:
Help your dog feel secure when home alone by creating a safe haven (a den), somewhere comfortable with blankets or bedding and a place your dog can safely rest in peace and quiet and where they will not be disturbed.
Build up self-confidence with being alone now, start leaving them for a short period of time and build this up - feed them a filled Kong or a super tasty long-lasting chew. This will take their focus away from being alone.
Keep your dog mentally stimulated throughout the day and especially just before you leave them. There are several ways to keep your dog mentally engaged, such as playtime with you but also when you're not there.
Use an ADAPTIL Calm Diffuser in the area your dog spends the most time to provide your dog with comforting pheromones that are scientifically proven to naturally reassure dogs, just like mothers reassure their puppies and help reduce their worries and help dogs through learning to be alone and to perceive changes or potential fears in a calmer way.
Dogs are loving having us around but it's important we prepare them for the future changes.
Following our expert tips will help to ensure your bond with your dog goes from strength to strength.
Make sure to join our community for weekly advice from our dog behaviour experts as well as product offers and competitions. 

Related Posts
Legal notice The information collected is intended for Ceva Santé Animale and the group in order to manage your requests. This information can be shared with service providers in order to organize their management. In accordance with the General Data Protection Regulations, you have the right to access, rectify and limit the processing of your data. You can also, in certain cases, object to the processing, withdraw your consent and request the deletion and portability of your data. For any request in relation to your personal data, please visit this page.