Is there a magic fix for firework fears?
Written by Adaptil, published on April 18, 2023
Fireworks can be extremely distressing for both you and your dog so it's only natural to scour the web for something that will help. In this article, ADAPTIL's behaviourist explores the different levels of fear that dogs show during fireworks and what to expect out of the products and environmental changes designed to help these fears.
Firstly, let's take a look at 'us humans' when we feel anxious or fearful (for example fear of heights, spiders or flying), we may feel slightly nervous so our heart rate increases, we may not be able to concentrate or we may show extreme levels of fear and get shortness of breath, start sweating or we may even feel nauseous. Now think of ways we try to cope with these fears, we can't make them 'go away' or use a product to stop being fearful but we can try methods to help us cope and bring the level of our fear down.
This is exactly the same with our dogs, fireworks are completely random, and dogs have no control or understanding of them, which in itself can cause stress. Pairing that with the huge sounds and scary flashes of light makes for a traumatic and frightening experience. Dog's have sensitive hearing, so sounds will be louder and clearer than ours.
The level of fear your dog exhibits can be different, every dog is an individual and has a different level of fear.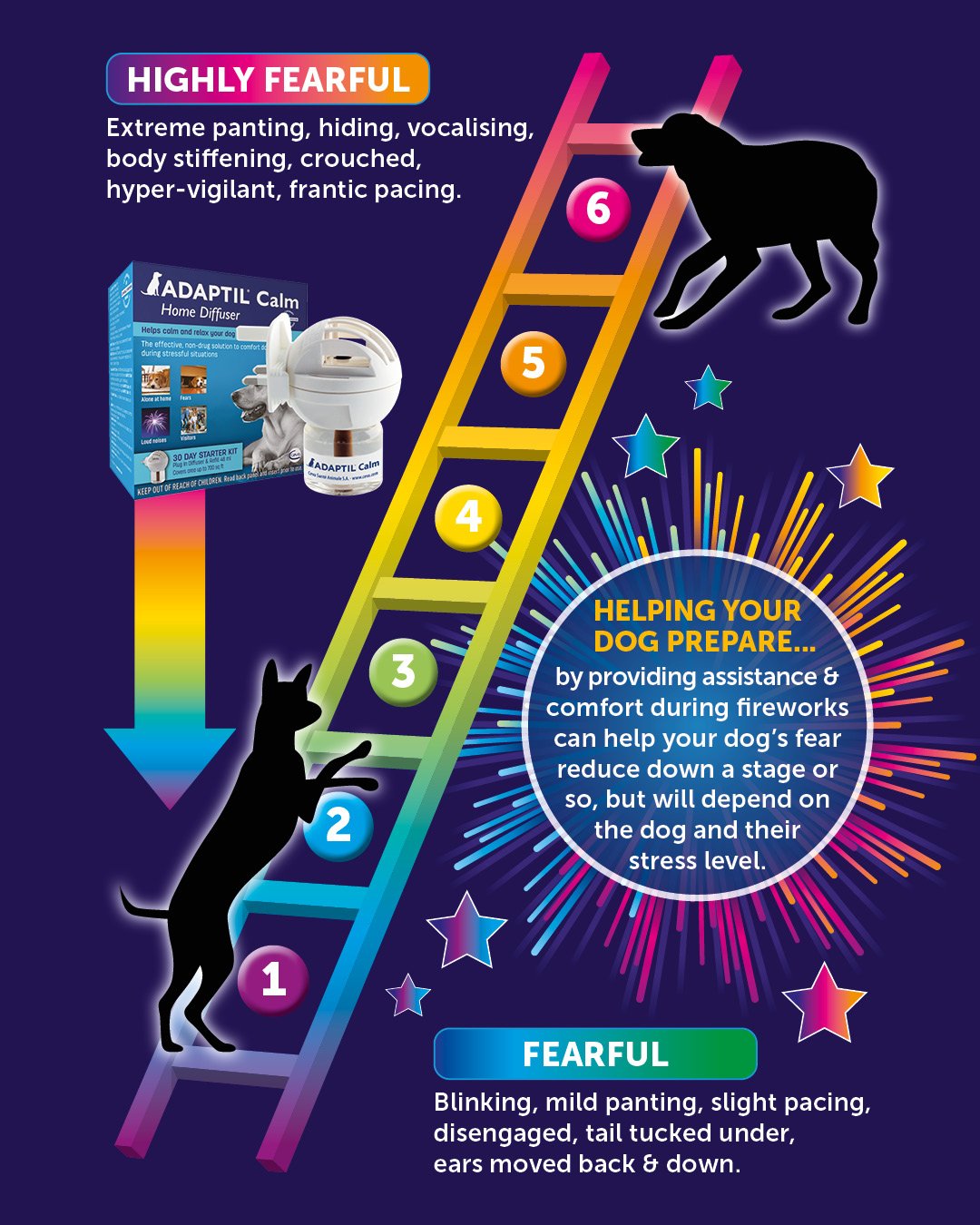 The Dog Fear Ladder
To try to explain this further we have adapted the ladder diagram to show the different levels of fear your dog may exhibit. As your dog gets more and more worried, they will get further up the fear ladder which will as a result show more extreme reactions.
By helping them bit by bit and preparing, following some techniques and plugging in an ADAPTIL Calm Home Diffuser you can help them go down the fear ladder. It's important to remember that if your dog is exhibiting a level 5 fear these measures may bring them down to a 3 which of course helps your dog cope during the season but they will still show a fear response to fireworks.
The way to get them further down the ladder is to desensitize them to the noise through the year. More information from the Dogs Trust on this here.
What to expect when using ADAPTIL for fireworks
When a mother has puppies she releases a natural pheromone which not only settles her as an adult dog but also her puppies, it is there to help reassure the pups when settling into their new life and meeting new things for the first time.
ADAPTIL is an exact copy of this natural pheromone and helps reassure your dog or puppy as if the mother was still there and provides them with additional support during challenging times.
Although ADAPTIL Calm Home Diffuser is not a magic wand to solve all your dog's worries, it can help reduce signs of fear such as trembling and hiding by 93% in dogs. It can help comfort your dog when they are going through potentially one of the scariest times of the year for them.
Remember, all dogs are different and their level of fear will be different and therefore their responses will vary. Using ADAPTIL is not necessarily going to make them sleep through the fireworks (however it could for some dogs). It works to help calm, comfort and reassure your dog and can help dogs settle quicker after the challenging event, what ADAPTIL does not do is sedate your dog.
If you are able to bring them down the ladder a few steps, you may then be able to interact and distract your dog which in term will give you an opportunity to reward calm and relaxed behaviours which will leave a positive experience for the future.
What else can I do?
It helps to pair ADAPTIL with other positive techniques and solutions, like a ThunderShirt, to really help your dog stay calm around fireworks:
Activity feeders and toys are a great yummy way to keep your dog happy and distracted from what they could be frightened of.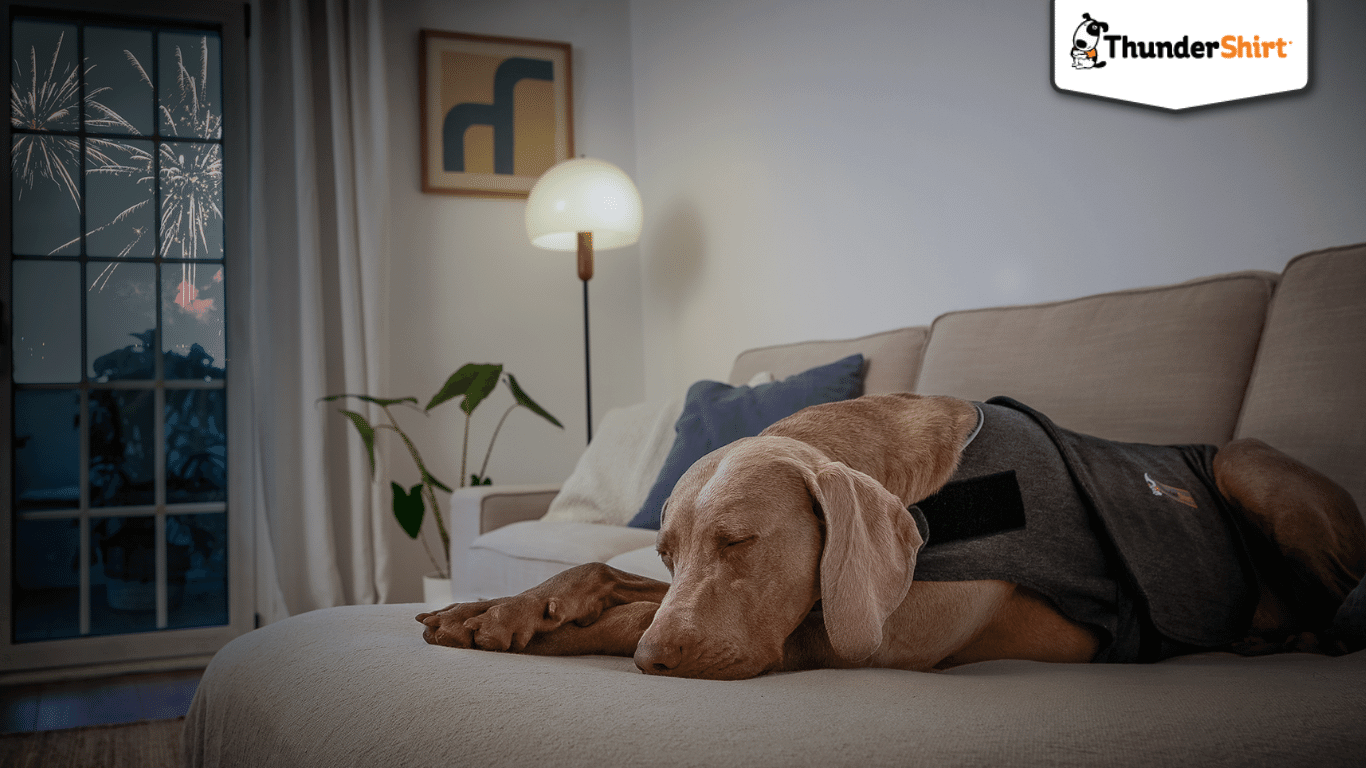 Wrap your dog with love in a

ThunderShirt - ThunderShirt provides gentle, calming pressure around your dog's torso, much like swaddling a baby. This is proven to help soothe their anxiety when fireworks are happening.
Toys and play time, a lot of dogs absolutely love to play, and a game of tug or playing with their toys can be such a rewarding activity, use this to reward their calm or relaxed behaviour, or as a distraction.
Just being close can help dog's get through their worries, stay in the same room and be calm yourself. Talk calmly and do not overly reassure, excite or fuss your dog unless really necessary.
Never tell your dog off for being worried, as the punishment will have a negative effect and make your dog's anxiety worse.
Create a safe place for them to relax in. If they feel they need to have their own space or hide they need somewhere comfy and cosy to go to. This is the ideal place to plug in ADAPTIL Diffuser.
Turn the TV or radio on and close doors and curtains to muffle out some sounds.
Incase your dog gets spooked, ensure your house/garden is secure and their microchip is up to date.
Walk your dog early, during daylight hours to avoid random fireworks going off and scaring your dog.
Training can be a fun task to help your dog learn, always reward them for calm relaxed behaviour, overtime they will realise this is how they need to behave. Give them fuss and attention when your dog is being calm or relaxed or when they ask for it.
Try ADAPTIL Chews, which are perfect to use in times of increased stress. The soft chew is especially formulated for dogs and composed of

calming ingredients, g

ive 30 mins before the expected event.
Get specialist help for an extreme fear
There are some dogs where no matter how much you can try to help, the dog's fear is so extreme that nothing will be taken in or altered. The fear will not be able to be reduced without professional help. Speak to your vet and they will be able to advise and prescribe you with suitable medication, which may help your dog. For the long term, requesting help from a behaviourist will help you put practices in place for the next fireworks season.
References
2) Evaluation of dog appeasing pheromone (D.A.P.®) as a potential treatment for dogs fearful of fireworks. Sheppard G, Mills D S Veterinary Record, 2003; 152, 432-436.
3) Effect of Dog Appeasing Pheromone Collar (DAP®) on a Model of Sound-Induced Fear and Anxiety. Landsberg G, Beck A, Araujo JA, Milgram N. Proceedings of the 9th International Veterinary Behaviour Meeting, Lisbon, Portugal, 2013, 45-46.
Following our expert tips will help to ensure your bond with your dog goes from strength to strength.
Make sure to join our community for weekly advice from our dog behaviour experts as well as product offers and competitions. 

Related Posts
Legal notice The information collected is intended for Ceva Santé Animale and the group in order to manage your requests. This information can be shared with service providers in order to organize their management. In accordance with the General Data Protection Regulations, you have the right to access, rectify and limit the processing of your data. You can also, in certain cases, object to the processing, withdraw your consent and request the deletion and portability of your data. For any request in relation to your personal data, please visit this page.