Is My Puppy Scared Of Fireworks
Written by Adaptil, published on April 18, 2023
Dogs can learn to be completely at ease with loud noises if they are gradually accustomed to them early in life. The aim is to habituate them to the point where they can remain relaxed when hearing loud sudden noises, such as they might experience on a day out at a show or when at home on firework night.
Fireworks noises can be particularly scary and threatening for dogs, which is no surprise considering their super-sensitive hearing! Read on for our expert advice to support your puppy.
Start early
Puppies should be exposed gradually to recordings of the noise of fireworks and other loud noises. These recordings should be played quietly at first, so the puppy is not startled and gradually increased over time, taking care not to worry them in any way. The aim should be a calm acceptance rather than only just tolerating. Use an ADAPTIL Junior collar throughout the process, it is clinically proven to help puppies learn better and faster.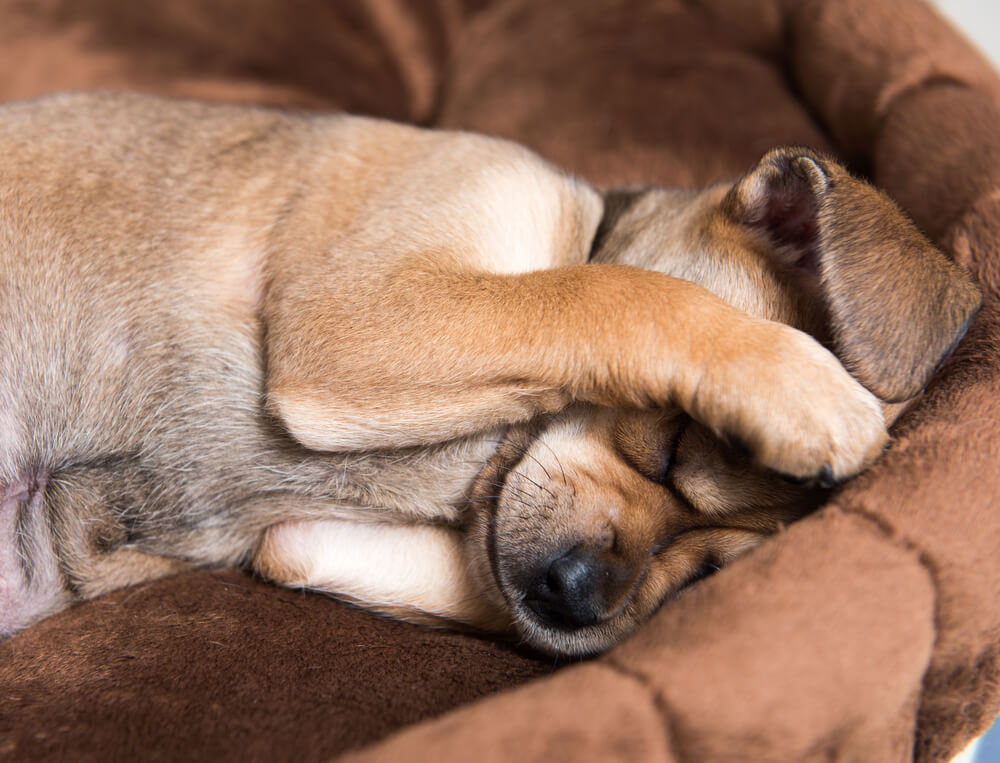 With nearly 50% of dogs being afraid of loud noises, take part in this survey designed by veterinary behaviourists Jon Bowen and Jaume Fatjo and find out if your dog is scared of fireworks.
Little and often
Frequency is key. The more the sounds are presented, the easier the puppy will accept them as part of daily life and the less notice they will take of them later in life. If done well, this early training will prepare them for a lifetime of worry-free celebrations.
Prevention is better than a cure
Prevention is much better than cure when it comes to noise sensitivities as habituation to sounds takes far less time than a treatment programme later in life. It is also much less stressful for the animal too. It is not difficult to do, it just needs to be done, preferably being started by the breeder and continued by the new owner until the puppy is mature. Read more about desensitisation and counter conditioning techniques here.
To help you be prepared for fireworks, take a look at this blog with handy hints and advice to help your dog stay calm.
You can also try our calming music for dogs playlist to help mask the loud noises outside and help calm your dog inside.
Use Calming Solutions
Using an ADAPTIL Calm Home Diffuser plugged in near to your dog's 'safe space' can also enhance their comfort and security. The diffuser sends comforting messages that help to reassure and relax your dog, and make fireworks a much more manageable experience!
Wrap your dog with love in a ThunderShirt - ThunderShirt provides gentle, calming pressure around your dog's torso, much like swaddling a baby. This is proven to help soothe their anxiety when fireworks are happening.
Of course, if your dog still shows severe fear signs despite these tips, be sure to consult your veterinarian for additional help.
Following our expert tips will help to ensure your bond with your dog goes from strength to strength.
Make sure to join our community for weekly advice from our dog behaviour experts as well as product offers and competitions. 

Related Posts
Legal notice The information collected is intended for Ceva Santé Animale and the group in order to manage your requests. This information can be shared with service providers in order to organize their management. In accordance with the General Data Protection Regulations, you have the right to access, rectify and limit the processing of your data. You can also, in certain cases, object to the processing, withdraw your consent and request the deletion and portability of your data. For any request in relation to your personal data, please visit this page.