How to Help Your Newly Adopted Dog Settle In
Written by Adaptil, published on April 18, 2023
It's very hard choosing a new best friend - from all the breeds in the rehoming centre, with adoring eyes and waggly tails, finding the right one to bring home is a very difficult decision to make, so make sure you have taken everything into consideration before making your final choice.
Ask yourself:
What breed is best for a new dog owner or will fit in with your family and lifestyle?
Have you had a dog before and know what you are committing to?
Will you be able to give them the exercise they need to keep them healthy and fit?
Are there other pets in the house and are you happy they will get on together?
If you have children, will they be able to follow your doggie rules?
Take the advice of the rehoming centre - they have lots of experience matching humans to dogs! Once you are confident, and you have decided which dog to adopt, you now need to help them settle in!
Rehoming centres will share with you as much information as they can about your chosen dog's background, where they have come from, and any particular traits the rehoming centre have noticed; for example, your chosen furry friend may be very playful and have a lot of energy, they may be very curious and always sniffing and investigating, or they may be shy and need a lot of encouragement. All this information will help you prepare for their arrival and also help your newly adopted dog settle into your home.
How to prepare for your newly adopted dog
You want your newly adopted dog to feel at home as quickly as possible, but remember this can take a little while - there will be lots of new smells, different people, and different noises - both indoors and outside in your garden - that they need to get used to.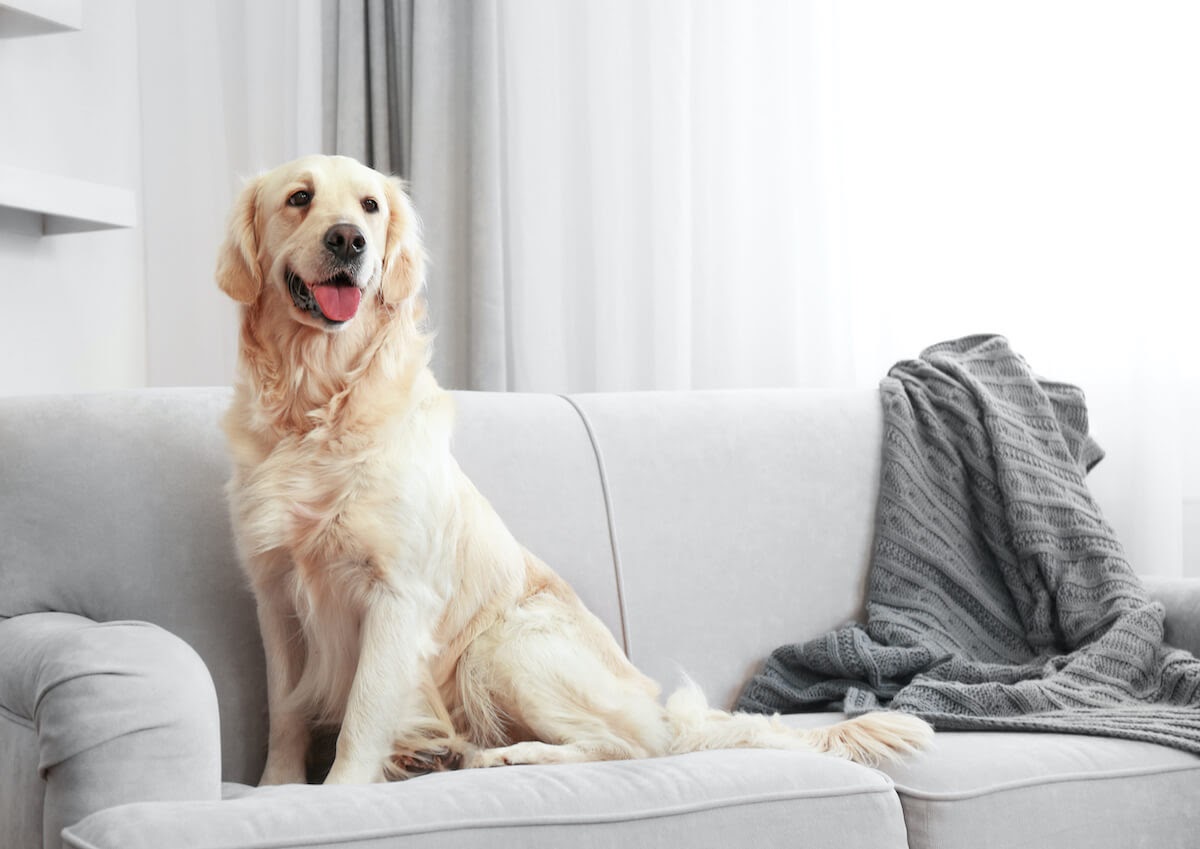 Preparing the home
Before the big day, arrange for some of their new bedding to be introduced to them while they are still at the centre. This will allow them to get used to it in familiar surroundings, and leave their scent on it so that they will have something familiar when they come home.
Prepare a nice comfy bed for them - if they are used to sleeping in a crate, this would be a good place to start, but make sure it's the right size for your pooch. Give them a choice of places to sleep so they can choose where they feel most comfortable.
Make sure their bed/crate is in an area where they will not be disturbed and that they also have plenty of water and toys available close by.
Plug in an Adaptil Calm Home Diffuser near to where the dog will spend most of its time a week or so before your new family member arrives to help them feel more secure in the new environment.
Give them the same food they are used to having. If you plan to change this, do it gradually once they have settled in. Put their food and drink bowls in a safe, accessible place, out of reach of other pets and children. Don't be concerned if they don't eat very much on the first day, it may take a little while for them to settle and eat regularly.
Keep to the same feeding times that they had previously - minimise the change they have to adapt to.This can be gradually changed to fit your routine once your dog is settled in.
Have some nice tasty treats available to reward them with whilst they are exploring their new home.
Allow them to explore their new surroundings in their own time. If you have somewhere (like ababy's room) that you want to protect from an excited pooch, put a baby gate up so that they can see what's in the room, but they cannot access it.
Remember to close any doors (like the front door) to make sure they can't escape if they get anxious.
Set house rules from the beginning. If you don't want them to jump on the sofa, don't allow it right from the start - if they are allowed to do it once and then the rules change, this will be confusing for them.
Have some interactive toys around for them to play with. Filling a Kong with some tasty treats will not only keep them entertained, it will also help your dog settle. Your rehoming centre will also give you advice as to what particular toys they have liked playing with.
Register your pooch with your local vet as soon as you can and remember to change the details on your dog's microchip so that it has the correct contact information.
Preparing the garden
Make your garden escape-proof. Particularly if your dog is a small breed, make sure there are no gaps in fences and that gates are closed.
It's good to have outside toys, like balls or a tug-of-war rope for them to play with in the garden, but clear the garden of any objects that might be precious to you or that might injure them if they get broken. Your new pooch might get very excited and run around very quickly while exploring.
Having another water bowl outside will help when they get hot and excited and they need to rehydrate.
For the journey home
It's likely that you will have to drive your new dog to your home and this might be quite overwhelming for them if they haven't travelled much in the past or may not have the best association with the car.
Spray the Adaptil Transport Spray on the blankets and/or car seats to help your new addition relax on their way home.
If it's a long journey, remember to stop frequently for toilet breaks.
Consider in advance where would be a safe place for your dog to sit during the journey. They should be secured with a seatbelt and harness, in a crate or in the boot.
Introducing people
Your friends and family will undoubtedly want to meet your new dog very soon, but try to make sure this is done in a calm way.
Arrange for all members of your family to meet your new pooch at the rehoming centre before they come home.
Consider putting a lead on your dog while you make the introductions. This will make sure that you are in control in case your pooch gets over-excited.
Explain to your friends and family that they should stay calm and try to avoid everyone descending at once, as your dog may be nervous to start with. They should stroke them gently when the dog approaches them, but not make a great fuss or make loud noises. Having a few doggie treats to hand will help make the introductions go more smoothly!
Ask them to sit down if possible - coming down to your dog's level will be less stressful for them. Try and encourage games with toys next to you, rather than using your hands or feet as toys.
Introducing your other dogs
Before you bring your new dog home, take your other dog to visit them in the rehoming centre to see if they get on.
Introduce your pets in a neutral place, like a park, but keep an eye on them and don't leave them alone unsupervised until you are sure they hit it off together.
Keep your dog on a lead when out walking for the first few times so that any doggie introductions can be controlled.You also need to be confident that your dog will respond to recall so as to avoid any lack of control - practise this a few times before taking your dog out for peace of mind.
If your dog is showing signs of being scared of other dogs, for example, if their tail goes between their legs, their ears go down flat to the head, they try to protect themselves or scare the other dog away, or they try to run away or cower down, you may findthese tipsuseful.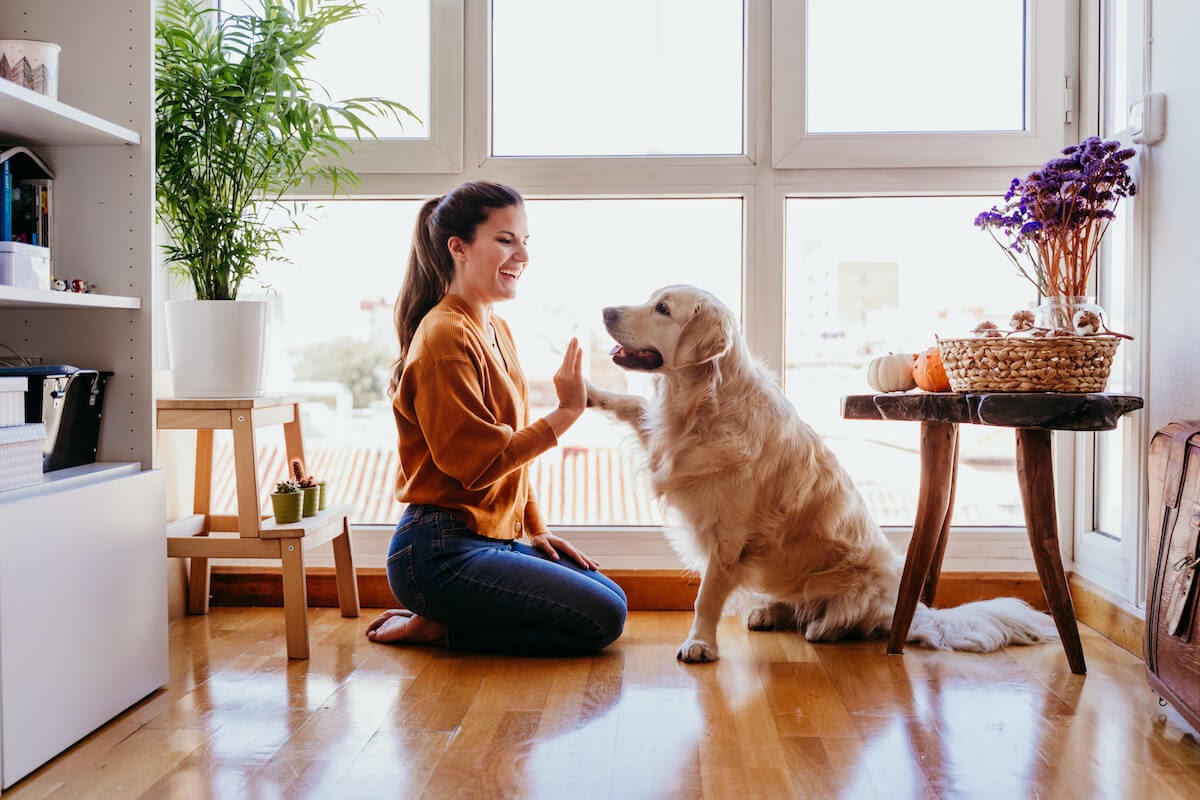 Establish a routine
Dogs like a routine, so establish one as soon as you can. Be consistent with meal times, walking and playtimes and spend time training them so that when you take them out, you can be confident that they will respond to your cues.
Training classes are a great way to help build a bond with your new dog, as you can both learn new things together. Socialisation classes will also help them to get used to other dogs and build their confidence for when you are out and about. The big wide world can be scary, the Adaptil Calm On-The-Go Collar provides constant reassurance whether at home or on the go.
Following our expert tips will help to ensure your bond with your dog goes from strength to strength.
Make sure to join our community for weekly advice from our dog behaviour experts as well as product offers and competitions. 

Related Posts
Legal notice The information collected is intended for Ceva Santé Animale and the group in order to manage your requests. This information can be shared with service providers in order to organize their management. In accordance with the General Data Protection Regulations, you have the right to access, rectify and limit the processing of your data. You can also, in certain cases, object to the processing, withdraw your consent and request the deletion and portability of your data. For any request in relation to your personal data, please visit this page.