Top Tips for Happy Holidays With a Dog!
Written by Adaptil, published on April 18, 2023
Are you planning a holiday and looking forward to taking your dog with you? What an adventure!
If your dog adjusts well to change, you will be able to have all sorts of fun and adventures together! But some dogs can find travelling, changes in their routine and a different environment challenging!
This doesn't mean that you shouldn't take a holiday with your dog it just means that you have to prepare well in advance to make sure you both have a wonderful time.
The Preparation
You will enjoy your travels much more if you plan in advance and this is particularly essential if you are planning to fly to your destination.
When choosing your destination
Make sure your holiday destination is dog friendly and that there are plenty of places you can explore with your pooch. If you are going to the seaside, make sure dogs are allowed on the beach at the time you are going; some beaches do not allow dogs in high season, but you may find that they are allowed out of season. Often, there will be a designated dog beach, so search these out before you go.
Check with your accommodation provider that dogs are allowed and that there are safe outside areas for them.
Check where the nearest vet is to your accommodation and keep the details to hand in case of emergencies.

Prepare your dog
Make sure your

dog's training skills

are up to date. You need to ensure that they will come to you when called, and that they know their doggie manners! A well behaved dog will be welcomed into other people's homes.
Make sure your dog's microchip is up to date with your contact details as well as their ID tag, just in case they wander off and get lost.
Consider health insurance for your dog this is more essential if you are travelling overseas as there may be different health risks in different countries.
Make sure your dog is fit to travel by getting them checked out by a vet before you go and that their vaccinations are up to date. If they are on medication, check that you have a sufficient supply with you for the duration of the holiday. You should also check that you have completed any paperwork required well ahead of travel.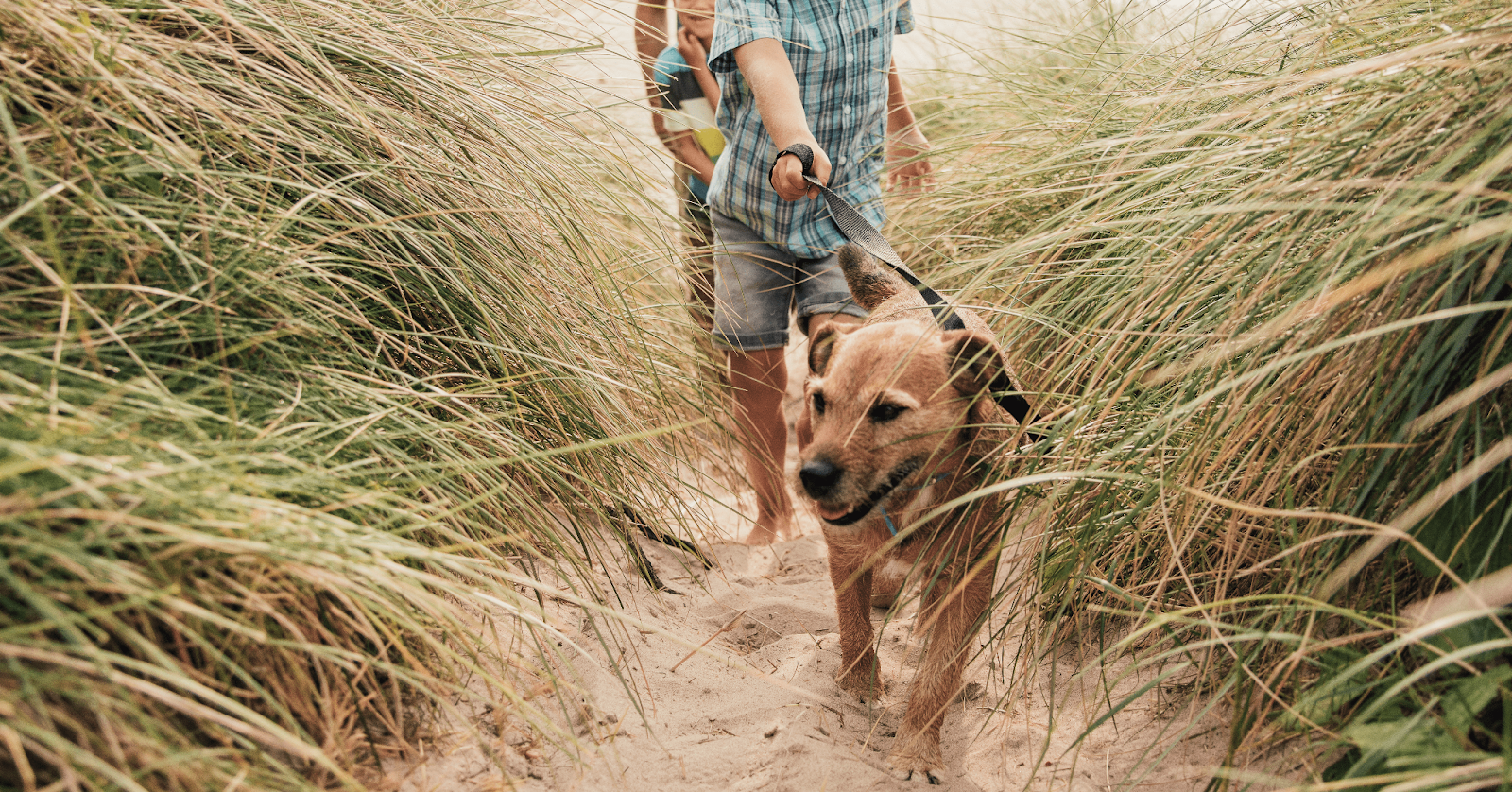 The Journey
Travelling to your destination is all part of the fun of a holiday, but this can be marred if your dog is not used to car journeys or gets anxious even at the sight of a car. Make sure your dog has a positive association with the car before you embark on your journey.
Introduce them to travelling from an early age, taking short journeys first and rewarding them when they are calm. Make sure they have their home comforts with them in the car their favourite toys, their bed and plenty of food and water for the journey. But be careful not to give them too much to eat while travelling as this could make them car sick.
Transport can help make your journey stress-free. Sprayed in the car or dog carrier ahead of travel (never on your dog!) it provides comforting messages to help reassure your dog while travelling.
You can also use ADAPTIL Calm Collar, which is a great option to help your dog stay calm and adapt to new situations, such as travelling and during your vacation! An ADPTIL Calm Collar is effective for 30 days, so your pet can wear it for support as soon as you start to pack and make pre-travel changes around the home that might unsettle them.
Always make sure your dog is safely restrained while travelling and schedule plenty of breaks so that they can toilet and stretch their legs. If you know your route well, you could identify an area to stop and give your dog a good walk on a lead, of course. This will give them exercise and relax them for their onward journey.It's also a great chance for us humans to have a break and stretch our legs too!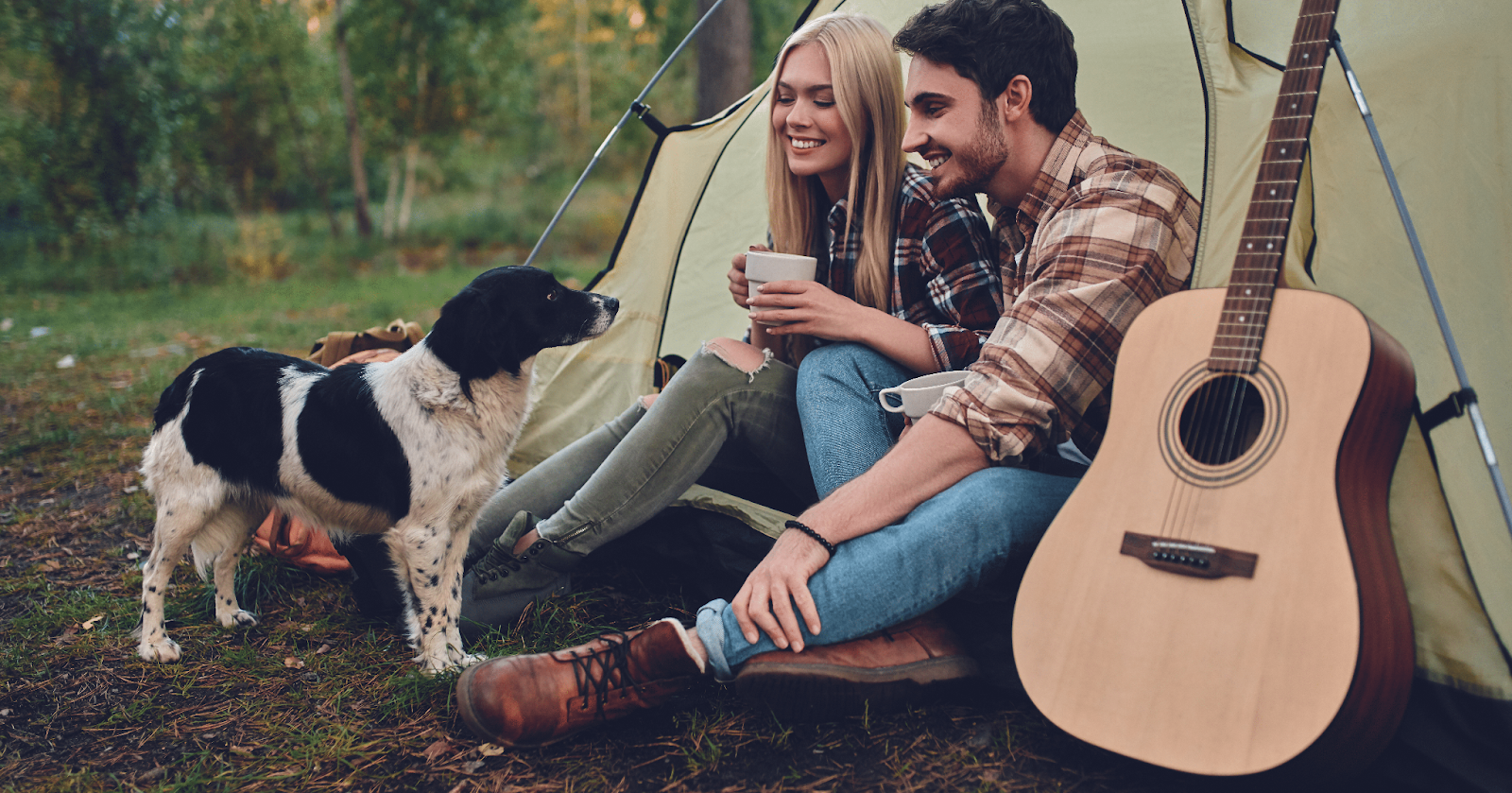 The Destination
Keep an eye on the local weather at your destination; if the weather is unfavourable or wet, take plenty of towels to clean your dog down when you return. The accommodation owners will thank you! Conversely, if hot weather is forecast, make sure you protect your dog from the heat and NEVER leave them in the car alone.
Create a space for your dog in your holiday accommodation for their bed, so they have somewhere they feel comfortable retreating to, undisturbed, should they want to. Make sure everyone knows to leave your dog undisturbed there if they choose to be in this area and always supervise them if strangers approach.
Give them time to explore their new accommodation, and get used to their new environment. Make sure they are supervised and on a lead we know how dogs like to mark their territory!
Try to keep your dog in their normal routine as much as possible regular mealtimes with the same food as they have at home and walking them at the same time each day if possible. Their rest time is just as important, so they can snooze while you are relaxing after all it's your holiday, too!
Try not to leave them alone for long periods of time as this may unsettle them. If your dog does not have an ADAPTIL Calm Collar, plug ADAPTIL Calm Home Diffuser into the room where your dog will be sleeping to help them feel relaxed and comfortable.
When walking in unfamiliar areas keep your dog on their lead, until you are sure you are in an area that it is safe for them to be let off (away from roads and other potential hazards).
Hopefully, you are feeling relaxed on your holiday, but don't forget to check for hazards that may be different to those you are used to at home, like cliffs, water currents, different animals/wildlife (e.g. jellyfish, insects, snakes, poisonous plants)
If you are planning to take evening walks in the cool, make sure you have a high-vis reflective collar or coat for your dog to keep them safe from traffic.
Always keep an eye on your dog's body language so that you can detect any signs of stress or any signs of them feeling unwell.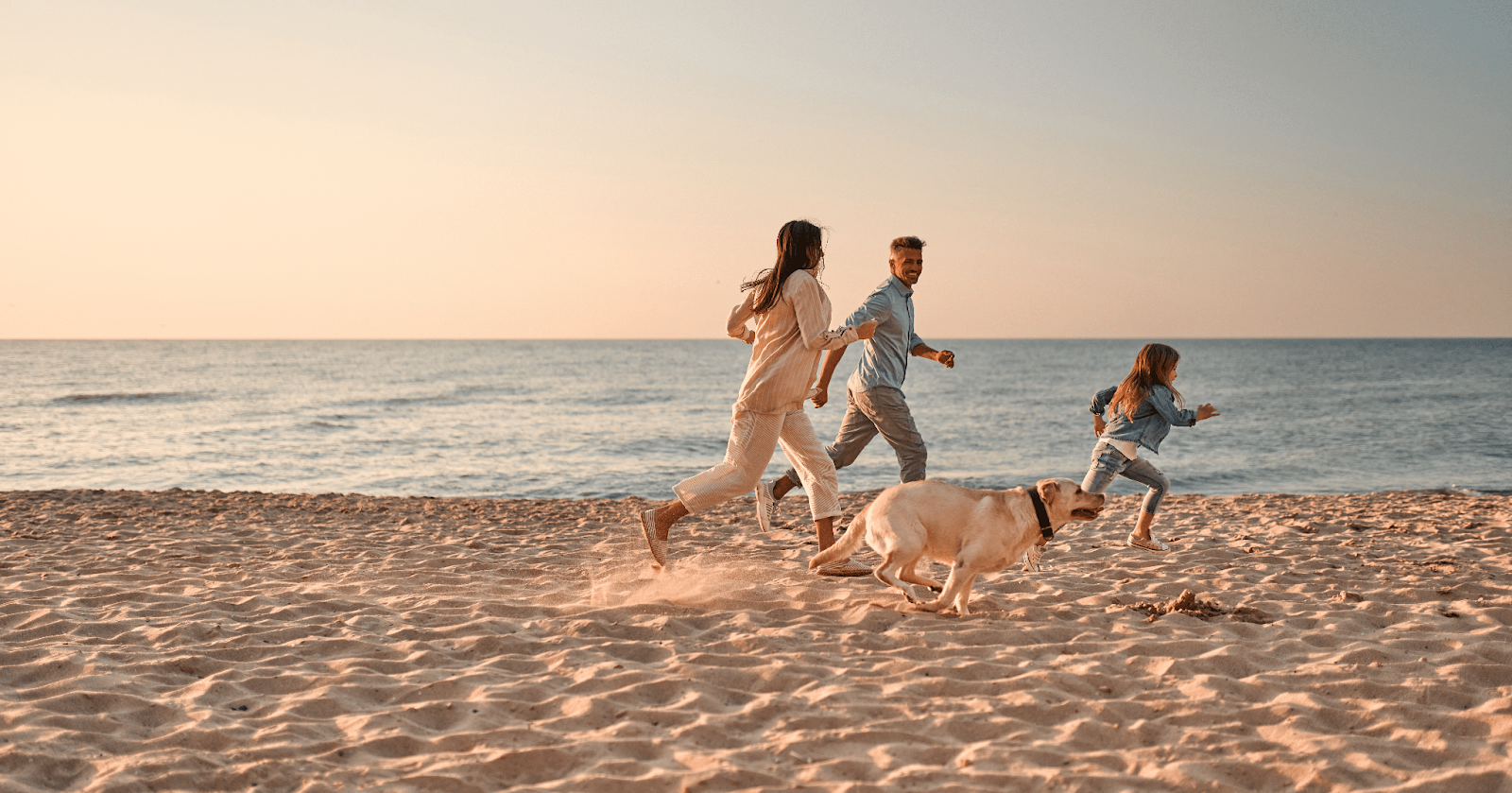 Is your dog a home bird?
Some dogs just like to be in their own territory and find travelling too stressful. If you have exhausted your options training, socialising, behaviourist and your dog still struggles when travelling, you may find an alternative solution would be to get a pet sitter to come to your home or find a good boarding kennel for them.
Just think of the warm welcome you will receive when you return home!
Following our expert tips will help to ensure your bond with your dog goes from strength to strength.
Make sure to join our community for weekly advice from our dog behaviour experts as well as product offers and competitions. 

Related Posts
Legal notice The information collected is intended for Ceva Santé Animale and the group in order to manage your requests. This information can be shared with service providers in order to organize their management. In accordance with the General Data Protection Regulations, you have the right to access, rectify and limit the processing of your data. You can also, in certain cases, object to the processing, withdraw your consent and request the deletion and portability of your data. For any request in relation to your personal data, please visit this page.