Desensitisation E-Book Download
Written by Adaptil, published on April 18, 2023
ADAPTIL, alongside Clinical Pet Behaviourist Charlotte Carr, have written an e-book to support pet parents with long-term help for fireworks fears. The 'How to desensitise your dog and cat to loud noises' e-book is a must read for any pet parent worried about the impact of stress on their pets.
From initial preparations to step by step guides and positive training tips and techniques, the desensitisation programme is a must for you and your pet to reduce their long-term fear of fireworks.
If nothing is done, their firework fears will only get worse. Through this e-book you'll find management and preventative methods to help your pet build up tolerance to loud, unexpected noises and be rewarded with a calmer pet come fireworks season.
All you need to do is fill in the form below to get your FREE download.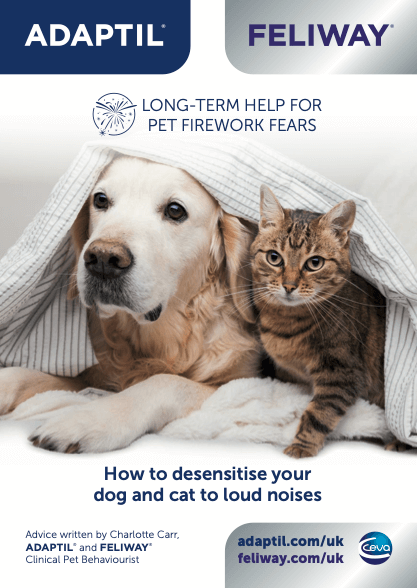 Following our expert tips will help to ensure your bond with your dog goes from strength to strength.
Make sure to join our community for weekly advice from our dog behaviour experts as well as product offers and competitions. 

Related Posts
Legal notice The information collected is intended for Ceva Santé Animale and the group in order to manage your requests. This information can be shared with service providers in order to organize their management. In accordance with the General Data Protection Regulations, you have the right to access, rectify and limit the processing of your data. You can also, in certain cases, object to the processing, withdraw your consent and request the deletion and portability of your data. For any request in relation to your personal data, please visit this page.