Bring Your Dog To Work Day 2019
Written by Adaptil, published on April 18, 2023
Ceva Animal Health, the manufacturers of ADAPTIL live and breathe what they believe in and part of this includes having a dog friendly office. To celebrate 'bring your dog to work day' (although this is every day for us!) we wanted to share with you our insights about the benefits for having a dog friendly office.
4 Reasons To Take Your Dog To Work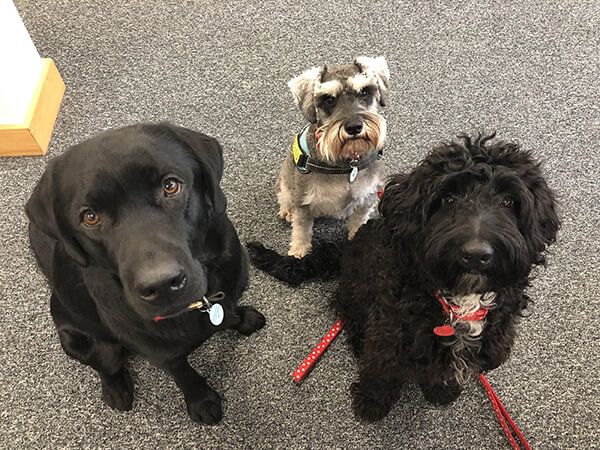 Gets you up and out - the dogs in the Ceva office are very switched on and are able to let you know when 12pm hits and it is time for their daily walk. Even with our busy work days it is a huge benefit to the team to get some fresh air at lunch time. Time for owner and dog to stretch their legs come rain or shine!
They are always there for a cuddle - it is not a shocking sight to see a Ceva employee lying on the floor alongside a dog for a bit of R&R. A few minutes cuddle can do you the world of good. It is a well-known fact that dogs in the workplace promote a more relaxed and enjoyable workplace and this is certainly true for us!
Socialisation - many of the Ceva dogs began their life at Ceva from a puppy. With many people and other dogs to meet, it has been an ideal place for their socialisation to begin and they grow up with a wealth of experience to use during their rest of their adult life.
Dogs are sociable creatures - not only is it a benefit for us, but also a benefit for them! They like to be with their owner, it can have a positive impact on their mental wellbeing. It also keeps the cost of dog care down.
"We at Ceva love taking our dogs to work, for us it's a huge perk to work for a company that allows this. Several of us get out at lunch time for a nice walk (even employees without dogs) and use the hour to get fresh air, get our step count up and have time for a good chat! When we return, the dogs are worn out and spend their afternoon in all sorts of comfortable positions which actually makes us quite jealous!"
Following our expert tips will help to ensure your bond with your dog goes from strength to strength.
Make sure to join our community for weekly advice from our dog behaviour experts as well as product offers and competitions. 

Related Posts
Legal notice The information collected is intended for Ceva Santé Animale and the group in order to manage your requests. This information can be shared with service providers in order to organize their management. In accordance with the General Data Protection Regulations, you have the right to access, rectify and limit the processing of your data. You can also, in certain cases, object to the processing, withdraw your consent and request the deletion and portability of your data. For any request in relation to your personal data, please visit this page.