5 Alternatives For Taking Your Dog To The Beach This Summer
Written by ADAPTIL Expert, published on August 08, 2023
The beach can be a great place for dogs to have fun and enjoy the outdoors, but it's not without its risks. Fortunately, it's not the only option for a fun-filled day either! We're taking a look at five fantastic alternatives to the beach for your dog in summer.
Is The Beach Safe For Dogs?
On the whole, beaches can be brilliant for dogs: a big, open space for your dog to play in and explore, often with other dogs to interact with. But some of the features that make the beach so enjoyable – the sun and water – can also prove to be dangerous. 
One of the biggest risks for walking dogs in hot weather is heatstroke. The beach contains very little natural shade and so it can be difficult for dogs to cool down. As for the sea, while dogs may enjoy splashing in the waves to keep cool, ingesting large amounts of saltwater can lead to dehydration and electrolyte imbalances.
This doesn't mean to say you and your pooch should avoid the beach altogether. Instead, it pays to be cautious and come prepared. When it comes to your summer dog care, you should provide plenty of fresh water, a shady spot to relax, the right sun protection, and be wary if the sea is too rough to play in.
Alternatively, why not check out our suggestions for places beside the beach to take your dog this summer?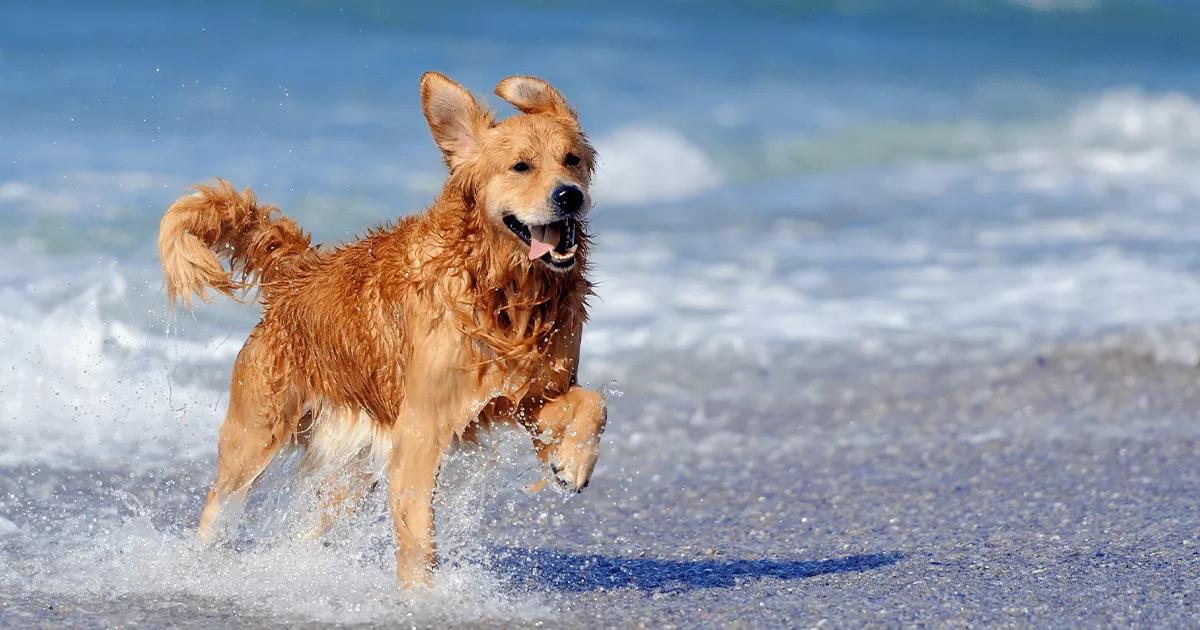 Dog-Friendly Pools
Swimming is a great activity for dogs. It has a low impact on joints, encourages movement, and is an ideal way to keep cool. So, if you want to take your dog for a dip but don't want to venture to the beach, why not consider a dog-friendly pool?
Dog-friendly pools have a number of benefits. They're kept to a safe depth, don't contain harmful chemicals that may be found in pools for humans, and are usually heated to a suitable temperature for dogs in summer. What's more, the staff at dog pools are usually trained to help dogs learn to swim, and are places that dogs can go to for hydrotherapy sessions.
Having an initial session in a safe pool can help to reassure dogs that haven't swum before or are nervous in water. Just be wary that some dog breeds may have body shapes that make it difficult for them to swim, such as short noses or legs. They can still have a good experience in the water with the right support, but it pays to be mindful where it's needed.
Lakes and Rivers
As with dog-friendly pools, travelling to a river or lake for a cooling dip can be another fantastic alternative to swimming in the sea for dogs in summer. There are just a few more factors to be cautious of:
Always check whether there are any rules about dogs entering the water in that area

Beware of stagnant water

Make sure your dog has a life jacket if they're not a confident swimmer

Keep an eye that your dog doesn't upset the wildlife

Be aware of dangerous currents in fast-flowing sections of rivers

Look out for dangerous items, such as broken glass or sharp rocks

Avoid reservoirs as these can be extremely cold, very deep, and have strong underwater currents

Let your dog experience the water at a level they're comfortable with and never force them in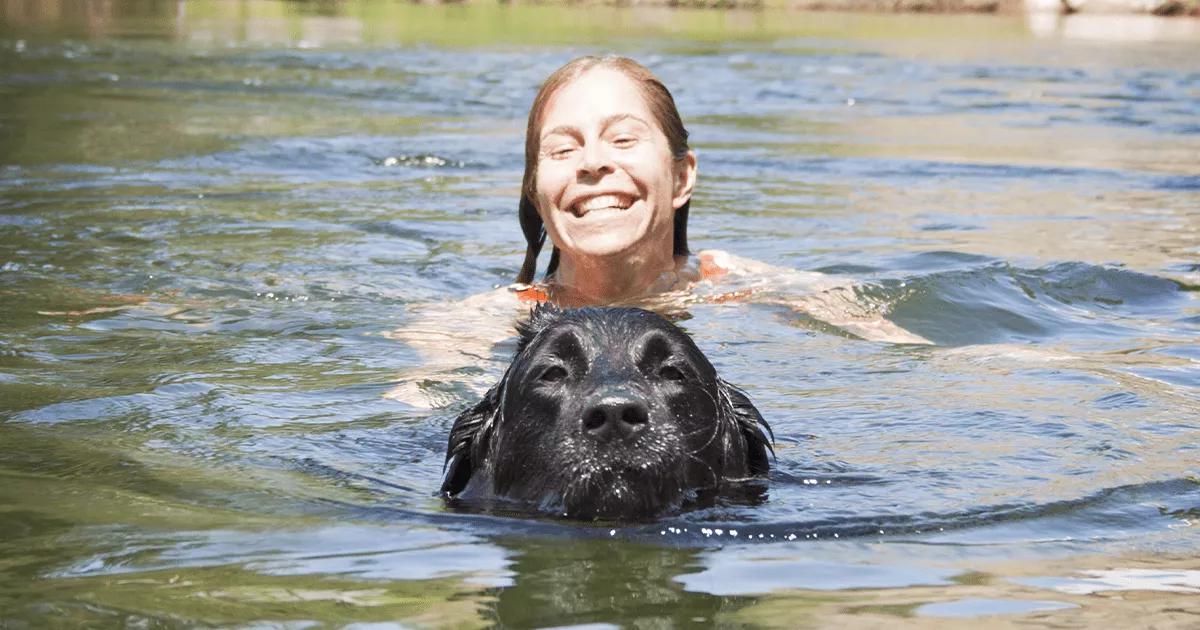 Otherwise, the usual summer dog care rules all apply. Bring plenty of water, a shady spot if you're going to be by the water for a while, and have a good recall to encourage your dog out of the water when you think it's time for a rest. Swimming is a strenuous workout that may tire your pup out sooner than either of you may think!
It's also worth having some fresh water to rinse your dog off before drying them, especially if they have sensitive skin. Don't forget to dry their ears thoroughly once they're finished in the water, too.
Lastly, ADAPTIL Calm Collar is a great option to keep your dog calm and reassured if they tend to get nervous in new or unknown situations. This could be handy if it's your first time taking your dog to the water. The only time you need to take off an ADAPTIL collar is when your dog is going into water that's been treated with chemicals, so swimming pools are unsuitable, but rivers and lakes are fine!
Splash Pads
If you're after some water-based fun but don't fancy taking your dog swimming, splash pads can be a brilliant alternative. These are usually outdoor play areas with different water jets and fountains, though you could even create a splash pad in your garden!
If you go to a public splash pad, bear in mind that some are for children only, and they may use chemicals that are unsuitable for dogs. It's always best to check the rules before heading down.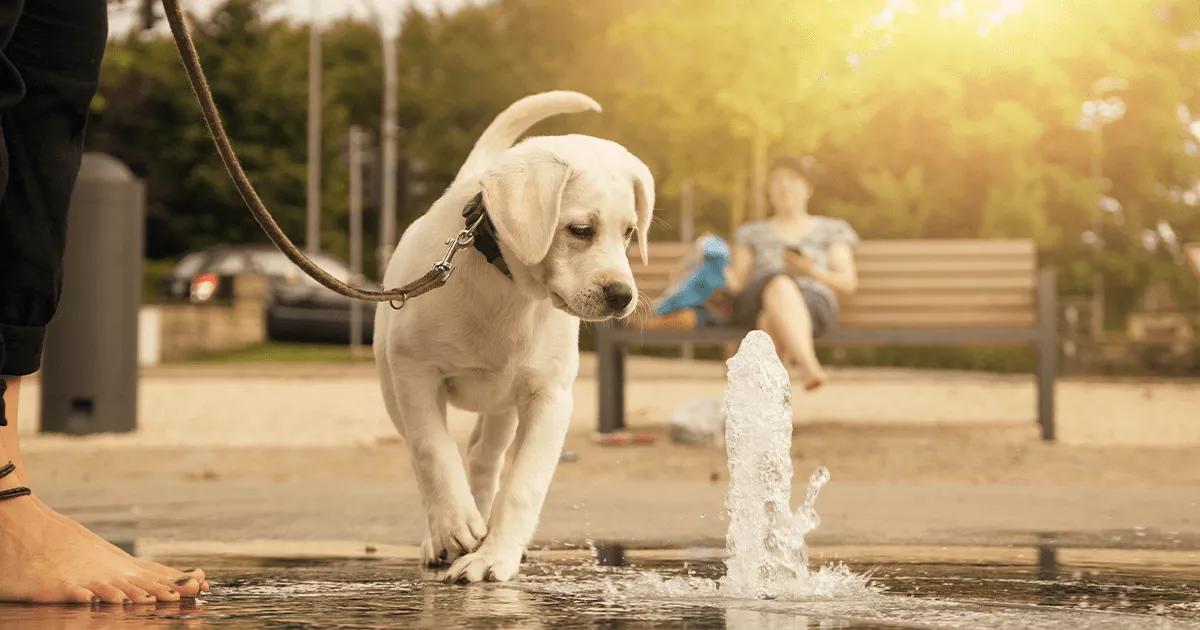 Indoor Play Areas
Indoor play areas should be kept to a cool temperature, making them an ideal solution to walking dogs in summer. They are designed with play, socialisation, and exercise in mind, usually with a range of different activities from open spaces to obstacle courses.
Some centres will have training sessions available, making the most of their open space and equipment, while staff will usually have dog first-aid certificates. As for steps you should take for your dog's summer care, make sure your dog has plenty of water during their fun time. A lot of centres will provide this themselves, but it's always a good idea to be prepared.
Hiking Trails
Hiking can be a brilliant way for you and your pooch to enjoy nature together. There are great opportunities for your dog to explore, stretch their legs, and bond with you as you hit the trails together.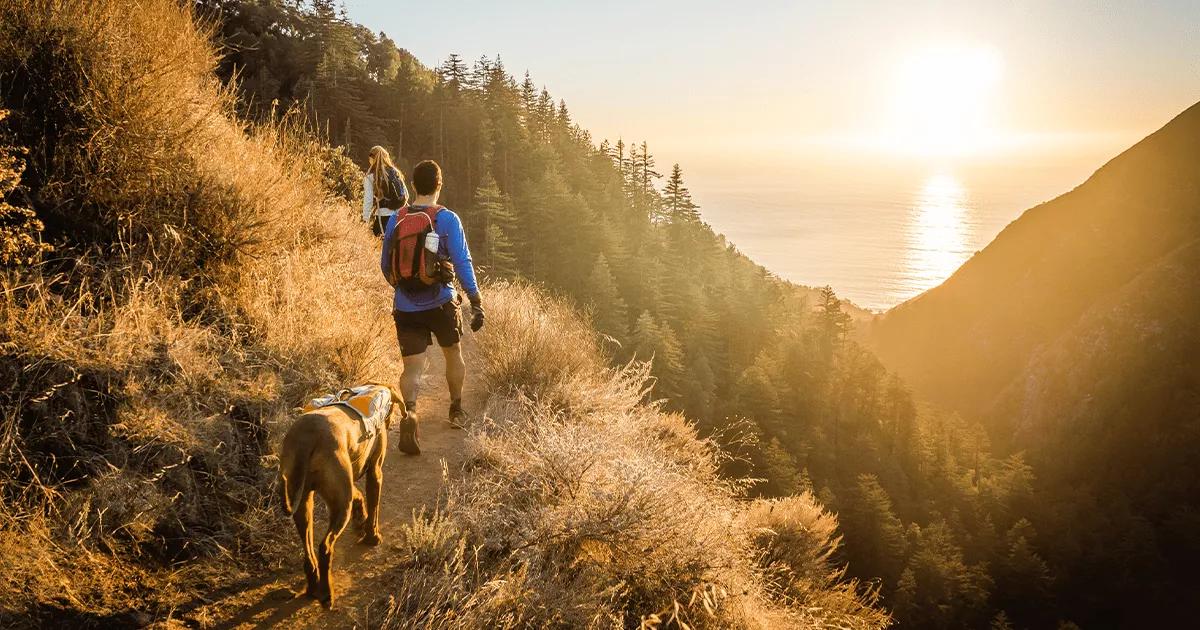 First things first, you should always check whether dogs are allowed where you plan to hike, or whether you may need to keep your dog on a lead. You should also consider the weather. Walking dogs in hot weather is never a good idea, so avoid the hottest times of day. And remember to bring enough fresh water for both you and your dog to remain hydrated, as well as snacks and treats to keep them going!
Other points to consider include:
Be considerate of others that you come across on the trail

Use an ADAPTIL

Calm

Collar if your dog gets nervous in these environments

Have a pet first-aid kit with you just in case

Make sure your dog has contact details on their ID tag in case you become separated

Good recall and 'leave it' skills are useful to keep your dog safe from any dangers you might encounter

You may be going into areas where ticks thrive, so make sure your dog is properly protected from parasites and check them for ticks when you finish your hike

Make sure your dog is fit enough for the hike you have planned, and take regular breaks in shady areas
Are you looking for more alternatives to walking dogs in summer, or would like to hear more about how ADAPTIL Calm Collar works? Why not get in touch! We love hearing from all dog owners about the adventures you and your pooch have been getting up to. And we may be able to provide a few tips and pointers along the way too! You can also stay informed with our latest informational guides, Q&As, and general advice by signing up to our newsletter.
Following our expert tips will help to ensure your bond with your dog goes from strength to strength.
Make sure to join our community for weekly advice from our dog behaviour experts as well as product offers and competitions. 

Related Posts
Legal notice The information collected is intended for Ceva Santé Animale and the group in order to manage your requests. This information can be shared with service providers in order to organize their management. In accordance with the General Data Protection Regulations, you have the right to access, rectify and limit the processing of your data. You can also, in certain cases, object to the processing, withdraw your consent and request the deletion and portability of your data. For any request in relation to your personal data, please visit this page.