10 More Famous Dogs in Movies: Must-watch Dog Films
Written by Adaptil, published on April 18, 2023
It's one of the best things you can do together to create a happy home atmosphere - aside from always remembering to plug in your ADAPTIL Calm Home Diffuser, of course!
So, if you and your pooch have already exhausted our first list of Must Watch Dog Films; we'd like to share another 10 suggestions for you, starring some of the most famous dogs that have appeared on our screens!
It's time to grab that popcorn, cosy up with your furry friend, and enjoy some, or all, of the following:
1. Lassie Come Home starring Lassie, a beautiful Rough Collie.
1943 : Family : 1h 29m
Lassie Come Home is an early film based on the 1940 novel Lassie Come-Home by Eric Knight. This movie became the first in a series of 7 Lassie films (played by Pal, a Collie). Lassie also became a major attraction at shows, fairs, and rodeos around America.
Lassie Come Home tells the story of the Carraclough family, who fell on hard times and were forced to sell their dog, Lassie, to the rich Duke of Rudling. However, Lassie was unwilling to leave the young Joe Carraclough; she escaped from her new owner and began the long trek from Scotland to her Yorkshire home.
2. Benji - starring Benji, a lovable mix of Cocker Spaniel, Schnauzer and Poodle
1974 & 2018 : TV-PG : 1h 27m
2018's Benji, is a remake of the popular family-friendly 1974 movie. It's a story all about the love between a stray dog and two children who want to adopt him - but who are unable to do so. Full of action and adventure, we see the children caught up in a robbery - can Benji come to the rescue?

3. Babe - starring Fly, a Border Collie
1995 : G : 1h 31m
This is a story about Babe, a pig who has been raised by sheepdogs on a rural English farm. And just like sheepdogs Babe can herd sheep! Fly, one of the sheepdogs, takes Babe under her wing after she loses her pups. But will the other farm animals, including Fly's jealous husband, Rex, accept a pig who doesn't conform to the farm's social hierarchy?
4. How the Grinch Stole Christmas - starring Max, a mixed breed shelter dog.
2000 : Family
Jim Carrey plays the title role in this live-action remake of the holiday classic, which sees the Grinch out to ruin Christmas for the Whoville residents! But - will he learn the true meaning of the season?
Max is the Grinch's pet dog - he is very kind and loves Christmas! But he is forced to do the Grinch's bidding, including becoming the Grinch's reindeer! Max is played by six mixed-breed shelter rescue dogs: Kelly, Chip, Topsy, Stella, and Zelda. If you and your pooch are feeling festive, this is the perfect winter movie!
5. Lady and the Tramp - starring Lady, a Golden Cocker Spaniel
1955 : G : 1h 16m
This doggie love story, is based on the book Happy Dan the Whistling Dogby Ward Greene. Lady, a golden cocker spaniel, meets up with a mongrel dog who calls himself the Tramp. He is obviously from the wrong side of town, but happenings at Lady's home make her decide to travel with him for a while. This turns out to be a bad move, as no dog is above the law.
Additional doggie co-stars with Lady were Trusty (a Bloodhound) and Jock (a Scottish Terrier) and it's Trusty's super sense of smell that saves the day!

6. Old Yeller - starring Old Yeller, a mixed breed 'Mutt'!
1957 : Family: 1h 23m
While his father goes off on a cattle drive, young Travis Coates is left to take care of the family ranch with his mother and younger brother. When a yellow mongrel comes for an uninvited stay with the family, Travis reluctantly adopts the dog. At first, the 'old yeller' dog is a nuisance, breaking down fences and stealing their meat but he grows to love and respect Old Yeller, after a series of scrapes involving raccoons, snakes, bears, wild hogs and wolves.
7. Harry Potter and the PHILOSOPHER'S
Stone starring Fluffy, the three-headed dog!
2001 : PG : 2h 32m
A magical epic; in this first movie of the Harry Potter series, Rubeus Hagrid loans Fluffy, his three-headed dog to Wizarding headmaster, Albus Dumbledore, to help guard the Philosopher's Stone during the 19911992 school year.
A giant and legendary dog, Fluffy is seen as a fierce and extremely strong guard dog, although he is docile around certain people - and can be calmed by those who know how! In one key scene, we see that music is the key to soothe an agitated Fluffy. In the film's lore, three-headed dogs were very rare creatures, and it is unknown if each head had a different doggy personality!
8. A Dog's Purpose - starring 5 different breeds of dogs!
2017 : PG : 1h 40m
Every dog happens for a reason. This film is about a dog who wants to discover his purpose in life with the story taking place over several doggy lifetimes and human relationships. Josh Gad provides our dog's voice as he is reincarnated as different breeds, and lives with different humans.
Over the course of multiple lifetimes between 1950 and 2000, our lead dog's existence intersects with that of a young boy who rescued him in 1962. It's an emotional drama, so you will need tissues at the ready, but this story provides clear messages about empathy and the importance of bothhuman and animal companionship. The stars of the film are:
Astray mongrel puppy named Toby
A Golden Retriever named Bailey
A German Shepherd police dog named Ellie
A Pembroke Welsh Corgi named Tino and his companion Roxie who is a Landseer
A St. Bernard-Australian Shepherd mix named Buddy (later changed to Bailey again!)

9. The Isle of Dogs - starring Spots, a short-haired Oceanic speckle-eared sport hound!
2018 : PG-13 : 1h 41m
In this picturesque Wes Anderson creation, an outbreak of dog flu has spread through the city of Megasaki, Japan, and Mayor Kobayashi has demanded all dogs be sent to Trash Island.
Our leading dog Chief, had lived most of his life as a stray so is used to the conditions on Trash Island; and befriends four house-pet dogs named Rex, King, Duke, and Boss. Together they set out to help Atari, a young boy who wants to find his lost dog, Spots - helping each other through many obstacles along the way.
10. Snoopy Come Home - starring Snoopy, a spotted white Beagle
1972 : G : 1h 21m
This comic-strip character never fails to please! Charlie Brown's beloved dog Snoopy receives a letter from his original owner (yes, Snoopy can read) Lila who has been sick in the hospital. Snoopy and his bird friend Woodstock, decide to visit Lila, making his way across the country despite seeing "no dogs allowed" signs everywhere.
When Lila gets better, she asks Snoopy to live with
her. After a farewell party, he sets out to live with Lila.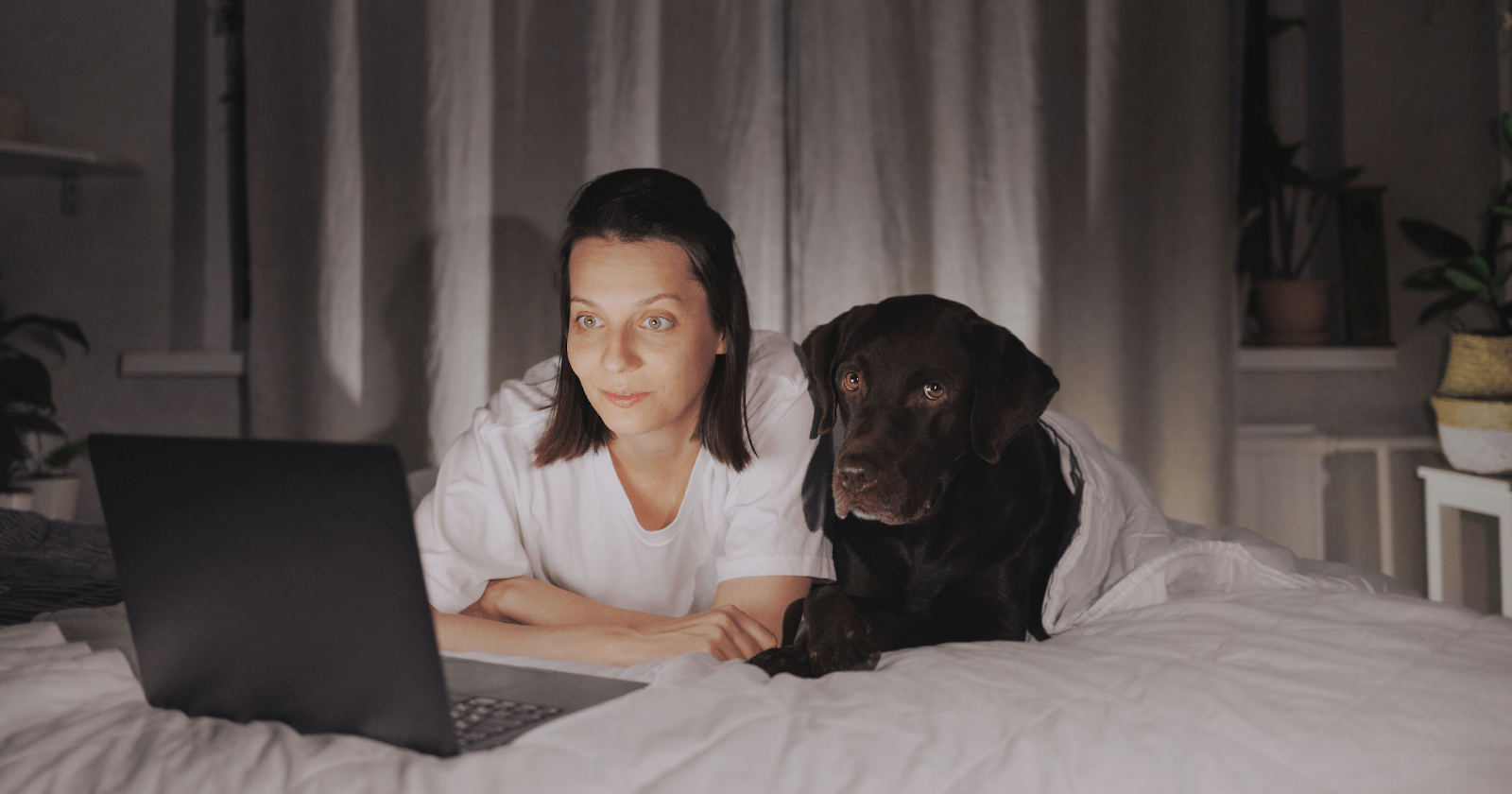 Pooches at the Pictures
As Josh Billings, the American humorist once said:
"In the whole history of the world there is but one thing that money can not buy... to wit the wag of a dog's tail"
Is your pet's tail wagging at the thought of a cosynight with you, some tasty treatsand a doggy film? Enjoy your night at the movies together!
Following our expert tips will help to ensure your bond with your dog goes from strength to strength.
Make sure to join our community for weekly advice from our dog behaviour experts as well as product offers and competitions. 

Related Posts
Legal notice The information collected is intended for Ceva Santé Animale and the group in order to manage your requests. This information can be shared with service providers in order to organize their management. In accordance with the General Data Protection Regulations, you have the right to access, rectify and limit the processing of your data. You can also, in certain cases, object to the processing, withdraw your consent and request the deletion and portability of your data. For any request in relation to your personal data, please visit this page.